Starizona is soon to release their F4 "Night Owl HD" reducer (up to 16mm diagonal sensors) design for the EdgeHD series of SCT's. I understand the release date to be approximately 6-8 weeks away. They were kind enough to send me a prototype to use and test with my EdgeHD 8"; I will share my experience with it here as weather permits. The backfocus of the reducer is 34mm and with a filter in the image train (behind the reducer), the backfocus is moved out 1mm to 35mm. I will be using the Starizona filter slider, therefore my backfocus is 35mm. My image train is : Starizona filter slider (17.5) + ASI183MM/MC-C (17.5) = 35mm.
Prototype received : (Release version will have a nice finish)
I took receipt of the F4 Night Owl HD on 8/3/19. Contrary to the weather forecast, the skies were clear this evening. I had not prepared my larger mount (CEM60EC loaded with RASA) and so I quickly configured my smaller CEM25P with the EDGEHD 8 / ASI183MC-Cool / Night Owl HD / L-eNhance filter and attached a guidescope. Admittedly, this is overload for the CEM25 and my guidescope wasn't parallel calibrated. Nonetheless, I did not want to waste a precious clear sky evening. To get things started, I completed a quick center star focus routine, in sharpcap, and was then ready to begin SGP. Once complete, roughly 1Hr 40 minutes worth of data was acquired before the clouds arrived; good enough for a test run. I do want to point out that I did have a consistent amount of slight drift (due to guidescope not being parallel and large differential of scale). Moving forward, I will work to fine tune my guide system and use the larger mount.
080319 Test 1 Result (mild edit from red zone) :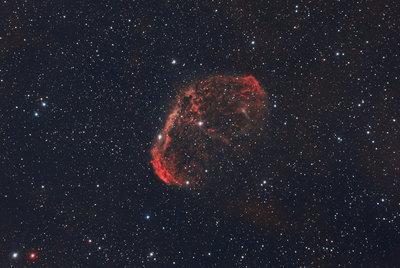 AB Link:
If you would like to review the original edit / 32 bit original stack file / single exposure, those files can be found here :
https://1drv.ms/u/s!...2oWR-w?e=Yvxff0
Considering I had slight consistent drift, I am more than pleased with this Test 1 result and am very excited about this F4 HD release. I suspect more improvements can be made once I switch mounts and utilize a larger guide scope. It appears Starizona has designed another wonderful product here, further expanding photographic opportunities with the SCT/HD scopes. What do you think? More to follow......