Hi there! After many months of lurking.. time to introduce myself to this wonderful community, together with a nice story about the classic Zeiss refractor I'm lucky enough to have in my custody at the moment. Apologies for length but also: enjoy!

My name is Carmen, I'm from Amsterdam (NL) and I'm an English teacher at a high school right here in my city. I work at an old school: founded in 1917. It's an institute proud of its traditions and rich history. While teachers and staff usually do a great job curating any valuable possessions the school has acquired over the decades, I was lucky enough to have my attention drawn to this very old, very nasty looking wooden box that did not seem to have been looked after very well (this was about 2 years ago):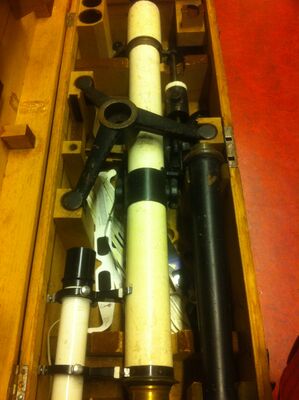 The telescope was stowed in one of the Physics dept. storage areas and it looked as if it hadn't been touched for years. I carefully erected the dusty Zeiss tube and cleaned out the entire original box. I didn't dare touch the optics (yet), afraid the entire thing would come apart: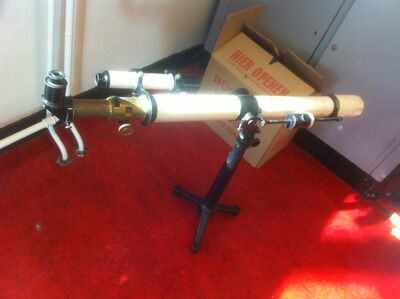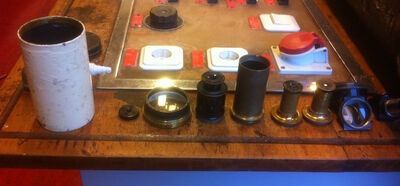 First, I had to get this thing somewhere safe, a place free of running and screaming 15-year olds. School was happy for me to take the 30-something kilogram behemoth home in order to do some research.
So, for about a year now, I've had it set up in my clean, dry living room. I've only done some very careful minor "cleaning" of the objective and eyepieces -- as a photographer I'm comfortable enough to handle glass safely. Besides, the amount of yuck that needed to be removed was negligible: the optics are in GREAT condition.
<3' id='sml_image_view_80569' />
(I mean, look at her

)
Next to enjoying the stunning planetary views, double stars and clusters, I've mainly been reading up on the history of classic (Zeiss) telescopes, which basically meant spending hours and hours perusing this forum, learning so many new things.. I'm very grateful for your sharing your knowledge and ideas about these ol' beasties

However, despite my efforts, I haven't been able to determine exactly where in the Zeiss history this refractor should be placed. I assume it was bought not long before or after the school's inauguration (1917) and various sources seem to confirm this.
So, here's the facts:
Carl Zeiss Jena 60mm (2.4") refractor with a focal length of 1040mm (f/17)
Tube nr.8958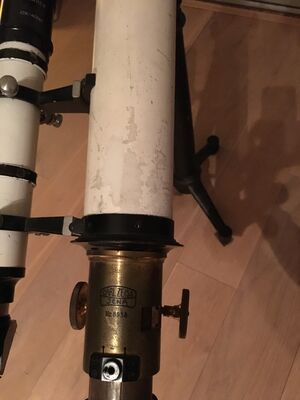 Objective nr.8936 and hand-written in pencil indicated on the rim of the objective is "K58158" (twice)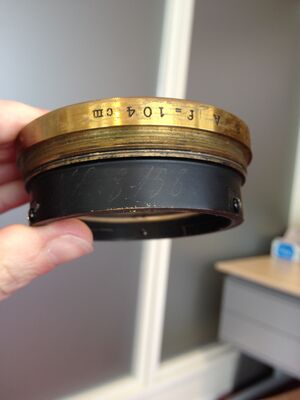 My brainwave on the significance of that handwritten "K58158": does "K" stand for the German word Kumulativ? If yes, then according to the attached "zeissbin.doc" binocular-list this would narrow the year of manufacturing down to 1902/1903
However, this is just a list for bino's, so I could be totally wrong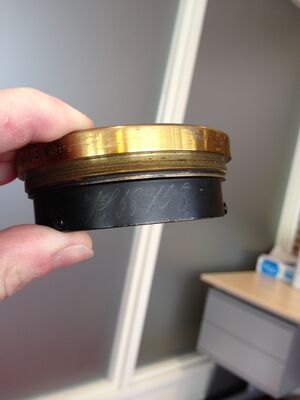 -The finder scope is a non-original 1970s(?) replacement, Polarex 10x-40mm with a slightly damaged right angle that doesn't seem to be part of the original finder because the thread fit is.. dodgy. But it works wonderfully and the views are very sharp.



Eyepieces include the Kellner 40mm, Huygens 18mm, Ortho 9mm (there's numbers written in pencil on the ortho, too? still need to take a closer look)
Accesories include the Zenit-Prism (nr 5955), a funny "Objectifsonneblende" I think for stopping down aperture, Sunglass (which I won't be using like ever because I enjoy the power of, you know, *eyesight*) and a brass extender tube.
Now, here are the uncertainties:
The objective states it's an A-type. From AstroJensen's very informative posts on the A/AS fabrication, I gather these were only produced until 1926, when A was replaced by AS.

Flipping through the available scans of Zeiss' historic catalogs, the Astro30 edition shows an "Azimutale Fernrohre auf Tischstativ" and this one seems to fit the bill: the table stand, tube and accessories all match. The A-type is listed with code name "Asalveamos". Confusing is the catalog's reported focal length: 105 cm. Also, on the final pages of the catalog, the objectives are discussed individually and here the 60mm A-type is designated with codename "Ascidia", stating it's a true apochromate. Is mine too? Maybe the one I have is a little older and I'm looking at the wrong catalog. (update: pretty sure I'm looking at the wrong catalogue)

In any event, I'm overlooking something because I haven't found a bang-on match yet in order to truly identify the beauty standing in my livingroom right now. Thus my question to you boils down to: what is it, exactly?
I'm not in the slightest interested in selling, but it would be nice for the school to know what treasure they've been neglecting and sadly the majority of people can only appreciate this through value in cold-hard-EUROs

So, internet shows anything from €1000 to €3000 for setups this old, however if I'm super-off with this estimate let me know.
So there you have it! I hope you have enjoyed reading about the search for this scope's story. If you have any questions, ideas or know more on the subject, I'd be delighted! For now, I'll leave you with this last pic taken a couple of nights ago, showing the scope in "action".. quotation marks added because, living in the centre of one of the most light-polluted cities in the most lit up part of Europe, there's only so much I can enjoy from my tiny tiny back balcony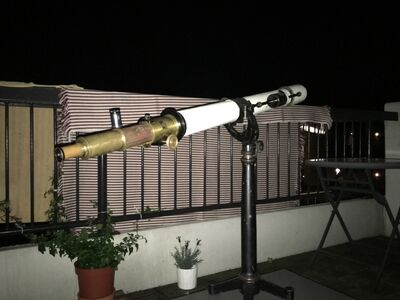 Thanks for reading and wishing you many very clear, very dark skies,
Carmen
PS Here's the link to the scope's very own Flickr album
Edited by kildeerplover, 12 August 2019 - 07:26 AM.