I've used this program since about 1995. The author's name is Elwood Downey (and I see he's also a ham). http://www.clearskyi...ute.com/xephem/ It's a serious ephemeris program with a lot of depth and features. Sorry MS Windows users, it doesn't go there, Linux and Mac only, get a Raspberry Pi (or one of the other cheap ARM machines: a $10 RPI Zero might work). The program's been around since at least 386 days so it's pretty efficient, not bloatware.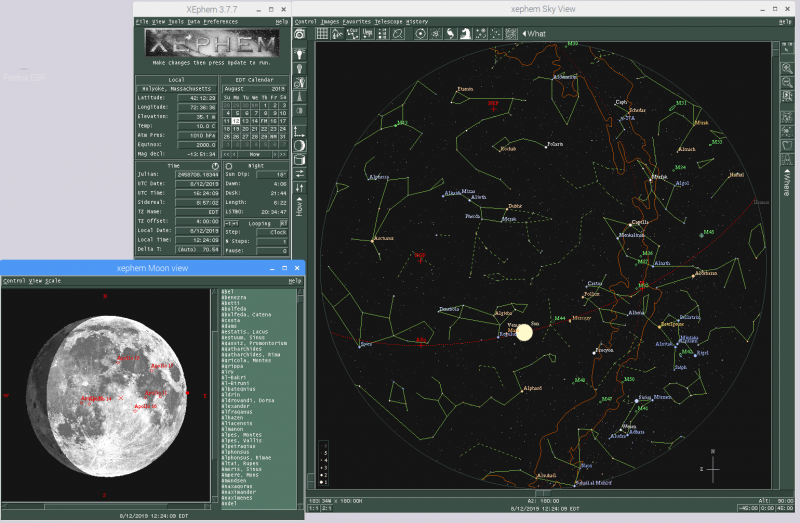 Reference manual: http://www.clearskyi...ute.com/xephem/ I see he's also giving away 2 CDs of star catalogs to magnitude 18.5, he was selling them before. And "XEphem does not run under native Windows but it works fine using a virtualization toolkit such as Virtualbox and a free linux distro such as OpenSUSE."
It's not in the standard packages, I had to build it from sources but I'm used to that so it was fairly easy, took about 5 minutes. Under Debian/Raspbian make sure you have libmotif-dev installed. Unpack the tgz file and cd into GUI/xephem inside. You need to know where your motif libraries are installed, "locate libXm" did it for me. Then I did "make MOTIF=/usr/lib/arm-linux-gnueabihf/" and it worked perfectly, left me with an xephem executable which I ran. His binaries for Linux are for Intel/AMD, for other forms of Linux like ARM you need to build from source code.
The only thing I don't like about the program is that there's no Preferences dialog in a modern sense [fixed?]. You can enter your location (for example) but it doesn't save it, making it permanent takes a bit of work. I didn't think of it for the screenshot above, but when you point to an object in the sky the coordinates appear, in both ra/dec and alt/az. And yes, of course, you can zoom in (use the slider on the left), install the star catalogs for more detail.
Edited by alan01346, 12 August 2019 - 12:44 PM.