Greetings from Brazil for everyone!

First of all, sorry me for any mistakes in this topic. I had never created one before



Well, could anyone please answer me a question about an "unidentified object" ("UO") in the Pentax 16x50 binocular eyepiece lens?
Ah! And figuring out what it would be...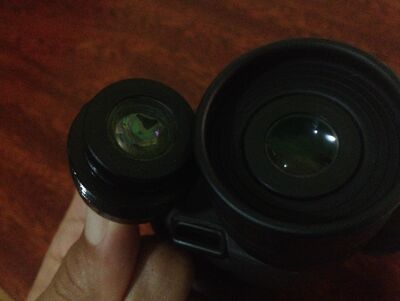 I bought these binoculars from a friend and, at the time of purchase, I could already notice the UO on the right eyepiece lens. Still, I decided to buy them because I figured it could be something to easily clean up later.
Unfortunately, now I can't reach it, nor identify it. And, when I ask the former owner actually what this UO really would be, he says he had also bought these binoculars with this annoying nuisance in the eyepiece lens.
At first sight, it is easy to see that the UO has a shape similar to a "distorted" or irregular triangle, but from the photos posted below (both inside and outside), it is noted that it has no similarities with any dirt, scratch, crack, latch nor fungus.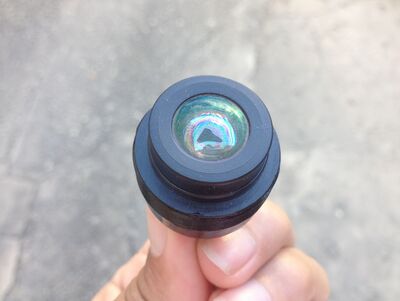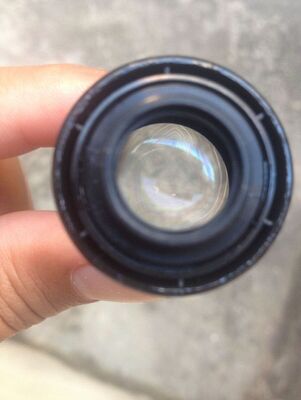 However, I still need to remove this next to last eyepiece lens in order to have APPARENTLY direct access to the last eyepiece lens (which are both depicted in the scheme of photo below) and so get face to face with the UO. How do I get access on this last eyepiece lens?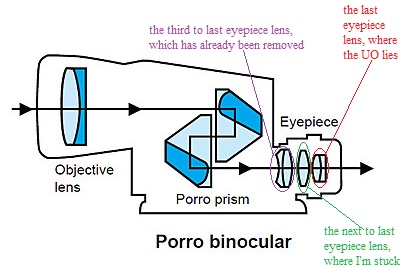 Thanks in advance!