About 10 days ago, I was in Nevada at the Berlin-Ichthyosaur State Park, which is in a very dark part of Nevada about 150 miles S/E of Mono Lake. The closest habitation of about 60 people is the mining community Gabbs, 20 miles distant and on the other side of mountains that completely block any light from this isolated "town" which has no active store or gas station. People who live there may have to drive to Hawthorne, NV, which is 1.5 hrs. away on fast roads just to get an egg. For the last hour getting to the Park, I did not pass a single vehicle in either direction. When the paved road comes to an end, you know you are only 5 miles from the park, on a dusty but graded unpaved dirt/gravel road.
I don't have an SQM, but this site is dark. I'd guess SQM 21+. It's charcoal color on the world light pollution map. At night, no light sources are visible except for what you bring and I could see no light domes in any direction.
I was there two nights by myself and 3 nights with OFLI (the Off Fisher Lane Irregulars) observing friends Jeff C. and Jim B. also from N. California. This was not our first trip to observe here. Naturally, I brought my NVD.
The first night, I only used my 50, 105 & 300mm camera lenses with night vision and either my FujiFilm Camera XT30, or my iPhone XR for imaging a variety of large nebula. The second night, I used my ES 208mm Newt, either with an MPCC at f:4 or with an ASA .73x reducer at f:2.8.
DISCLAIMER: Taking images is different than the visual use of NV. It is more akin to EAA because with my phone, I use up to 1 second exposures and automatic electronic photo averaging for results. With my Fujifilm XT30 camera, I take up to 20 second single exposures. If you have no interest in these results, please just skip this thread. Photo results differ from using NV visually.
Edggie had posted a photo and description of the Ink Spot dark nebula a couple of weeks before this trip and his post had peaked my curiosity about dark nebulae, also known as absorption nebulae, mainly found within the Barnard Catalogue. So before the trip, I made a list of possible candidates, using both the Bracken Astrophotography Sky Atlas and the S&T Pocket Sky Atlas… both include partial indexes of Barnard objects. Then I found "The Best of Barnard's Dark Nebula," a list composed by the Saquaro Astronomy Club that I found very helpful as it gives simple/brief directions to the Barnard subject from numbered NGC or Messier objects:
Unfortunately, I was star hopping to these objects because my GoTo mount does not include a catalogue of Barnard objects. It takes longer to find them!
I found that these nebulae are pretty difficult for me to see visually, even with NV, especially if the surrounding sky area is black; visually, I was looking for the absence of stars. But if they are associated with an emission nebula, use of an H-a filter helped substantially to see them materialize. I used only a 12nm filter where necessary for photos (e.g., within IC 1396). A very dark sky is also a big asset for better contrast. There is an abundance of dark nebulae found near the Milky Way central bulge, but they are not limited to that area of the sky.
I was surprised to find Barnard 85 located inside of M20, the Triffid. M20 is unique in that it includes emission, reflection and dark nebula. What I thought was part of the cloud-like emission nebula in M20, is actually an absorption nebulae that shows up prominently in almost every photo I've taken of M20. In the photos below, B85 is either circled or has an arrow to point it out.
ES 208 + 2x Barlow + 7nm H-a. iPhone XR, ISO 4000, 1/4s exp. averaged 10s.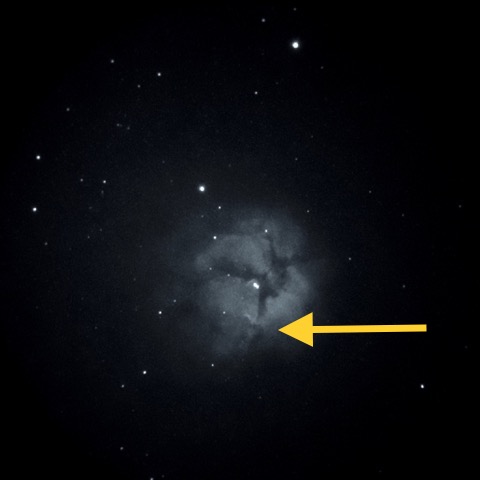 ES 208 + 12nm H-a. iPhone XR, ISO 5000, 1/2s exp. averaged 15s.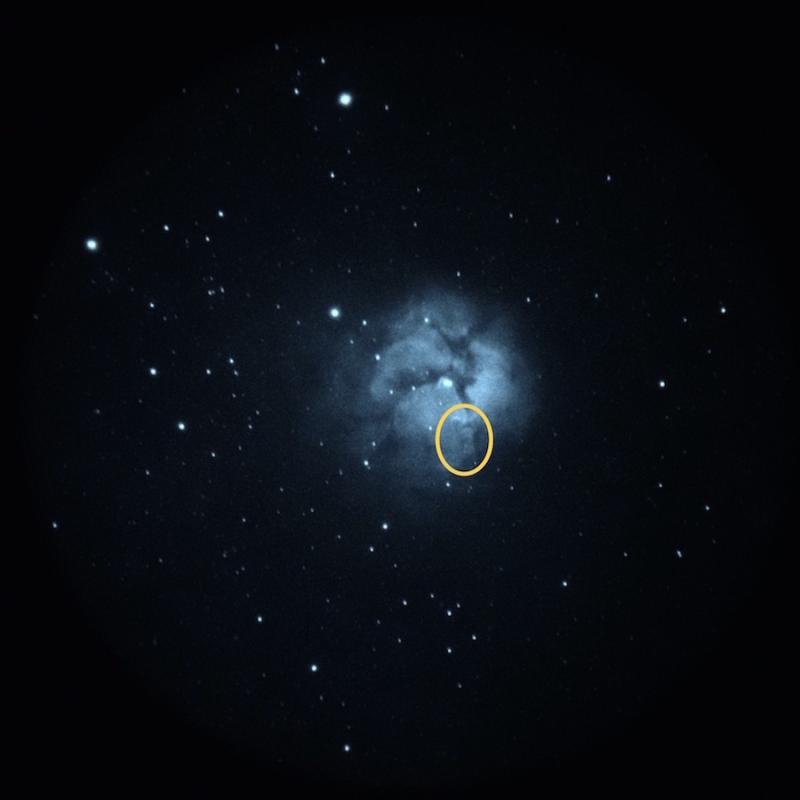 Likewise, B88, B89, and B296, all three being small, dark nebulae, take up residence in M8, The Lagoon Nebula. I have seen and photographed M8 many times without realizing that these small dark patches are catalogued… a demonstration of my ignorance about things I may take for granted! They are identified individually in this photo:
ES 208 + MPCC + 12nm H-a. iPhone XR, ISO 1600, 1/2s exp. averaged 10s.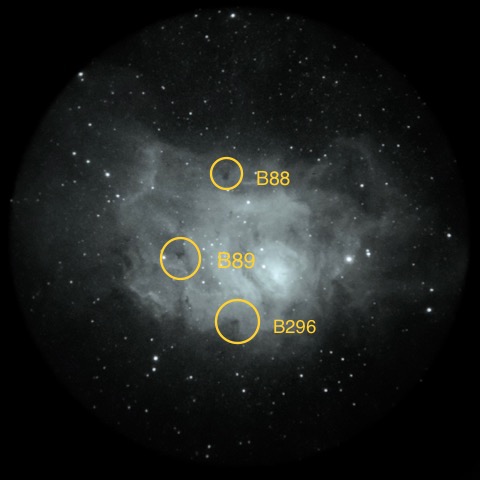 IC1396, the very large, but faint emission nebula in Cepheus, has numerous dark lanes but only one is catalogued… Barnard 163. I did not photograph it because I did not know exactly where it was located within IC 1396. But now I do and next time out, I'll try to photograph it. In this photo of IC 1396, I thought the dark spot at about 7 o'clock might have been it, but B163, is about one full FoV farther south. You can see in this internet long exposure image where B163 is located (faintly outlined in a green box):
https://epod.usra.ed...396-nebula.html
The dark spot in my image is about the same size at B163, but B163 looks more like a bee in flight.

ES 208 + MPCC + 12nm H-a. iPhone XR, ISO 6400, 1/3s exposure/averaged 10s.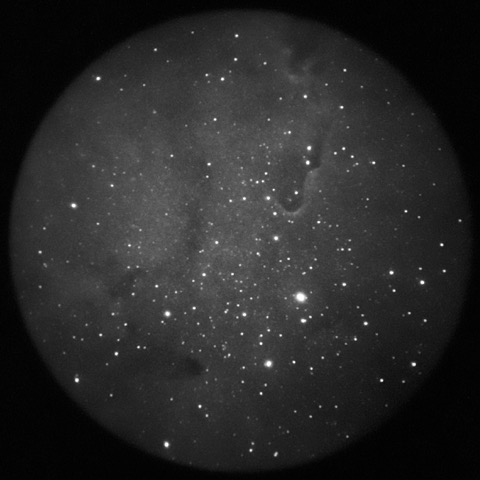 The Snake Nebula, B72, in Ophiuchus was an easy find. I photographed it with both my phone and a Fujifilm XT30 for a little comparison. These images were taken at the same FL but the Fuji attaches closer to the NV ocular, so the image fills more of the camera sensor. Using the phone which uses a slightly wide angle lens, the lens/sensor is farther from the ocular, so it takes a photo of the circular image emitted by the NVD. I'll Probably add a spacer to the Fuji camera connection as I like seeing the full round ocular image.
ES 208 + MPCC. Fujifilm XT30/35mm lens, ISO 100, 5s exp. (This camera provides a lot more detail than my phone images)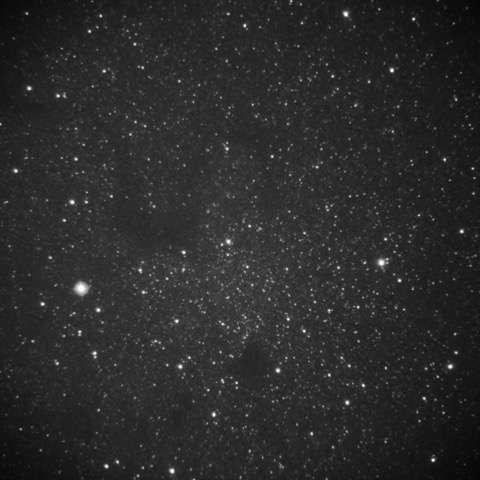 FOR COMPARISON: this photo was taken using the iPhone XR, ISO 250, 1/4s averaged 8s.