EDIT: I have just included a set of GRS close-ups down the thread in Post #17 from this night's captures...

Hi, the thread's title says it all...after staying at Moonta Bay & catching a few squid (calamari - well, Pat bettering me in that!

) we rode out a day & a half of incredible winds before deciding "enough was enough" & heading off.
I have Ethan's impact video to thank for heading to Leigh Creek about 500km North to get above the cloud cover...by the 9th most educated guesses deemed that any impact "scar" (if any was there initially!) was most unlikely to be seen, but the relevant Jovian vista was on view late on the 10th so we thought we'd have a try...
Leigh Creek, which was moved 20km South many years ago now due to the brown coal seam being found to be under the "Old Town"...this fed the Port Augusta power station which has now been shut down: a rather "eerie" place where a large, relatively modern "New Town" with fine streets & sports grounds etc has barely 1 or 2 people in all the winding, tree-lined streets therein...sad but a modern phenomena world-wide I suppose.
It is also adjacent to the magnificent Flinders Ranges, home of the Adnyamathanha people & on the road North to Marree, Oodnadatta or also Birdsville in South-Eastern Queensland.
There is a small caravan park run by volunteers & we drove from Moonta Bay on Friday 9th...set up & iced the scope early on Saturday evening ready to try our luck.
Unfortunately the ground winds were quite savage & although we wedged the car up to the end of the van to provide some protection for the scope in the "crook" it was not really sufficient: Jupiter ricocheted around & in & out of the ROI constantly, especially as I had opted for a small ROI to get the highest fps to try & compensate. (300fps)
I hardly need to say that this was an ASI224MC night - the mono camera would've been sheer lunacy! Clouds were also drifting across making the whole session quite farcical in some ways..!

After I post the images which I'll have to split up due to file-size limits I'll also post some screenshots of what AS!3 had to deal with - PIPP would've been nice but for some reason the version on my laptop (where I did 95% of the processing) records an error if I try to utilise the cropping & centring etc options so I just had to work with the situation...more when I post those screenshots.

I've kept all the images dimensions to 900 pixels so they might not need clicking on - but that's something you'll need to work out for yourselves...from the preview it still looks less than full capture scaling!

First up 4 rgb images across the session - we never did wait until the relevant vista for Ethan's impact was fully visible but by then not only was Jupiter getting low...my eyeballs were exhausted from trying to focus on an uber-oscillating disk onscreen...not to forget struggling to keep Jove onscreen in a 500x420 ROI - that in itself was so demanding..!

...jpeg for this one due to file-size limits.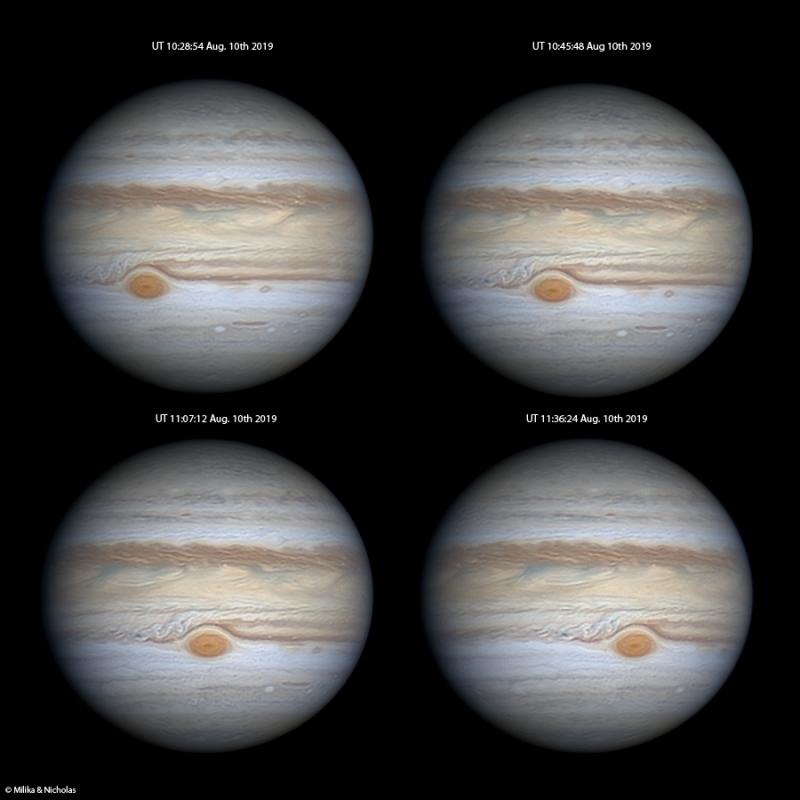 Edited by Kokatha man, 15 August 2019 - 02:34 AM.