Bought off ebay, this arrived today - expertly and fastidiously packaged, double wrapped in bubble-wrap, packed with cardboard protection panels, and then in a sturdy box! I tore into it to reveal a rather lovely looking OTA! Cosmetically the condition looks very good indeed. There are only very few slight marks on the tube, and I think some of them may be possible to remove. The lens cap is loose, so I've put in some felt tabs just to keep it in place for now.
I set it up on my AZ4 for a quick test before going to work, and found that the focuser is extremely tight. Like use both hands on the focus knobs tight! Looking at the drawtube, I can see and feel sticky hard residue. Looks like I'll need to strip it down and regrease it, like I did on the 839 years ago. I was surprised at the limited drawtube travel too, compared with the 839. The pictures in the gallery (linked) show it at full extension.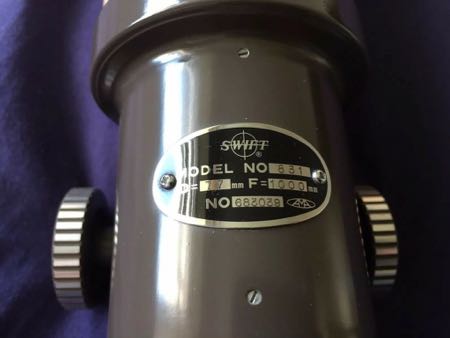 I was surprised by the unscrewing dew-shield - wasn't expecting that! Also very pleased by the condition of the optics. A few specks of dust here and there but no sign (yet) of anything nasty looking.
The included image-corrector and 12mm Kelner are also in very nice condition!
I only got a very brief view through the scope, using a Televue 20mm Plossl, looking at distant fields and closer flowers, and the view was bright and colour-free, though I didn't get a chance to observe critically.
Pleased so far! Link to photo gallery.
Ant