During a recent camping trip where I was frequently changing objective lenses, I noticed that I was getting some black spots on the image. When I got home, I decided it was time to clean the Mod 3C to rid it of the black specks, seen here, please note that one of the black specks is darker and looks more in focus: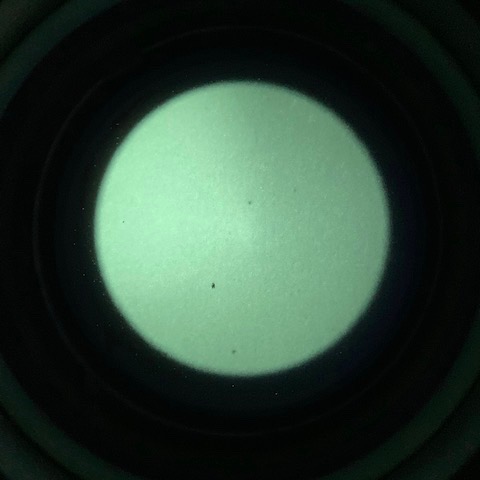 I removed the front objective, a 1x Envis lens, and cleaned the back of that lens as well as the front window of the NV tube, using an air bulb with very soft lens brush. I replaced the Envis and checked it again for debris, finding that all of the smaller, out-of-focus bits were gone. So then I removed the ocular at the back of the housing and cleaned both the rear tube window and the inside of the ocular with the air bulb and lens brush. Maintenance was complete with no more black specks.
In each of these photos there is a slightly brighter center spot. This is from using the pin hole in the objective lens cover for daytime use in a darkened closet. The texture seen in these images is the texture on the wall in the closet, out of focus, as the objective lens was still focused at infinity.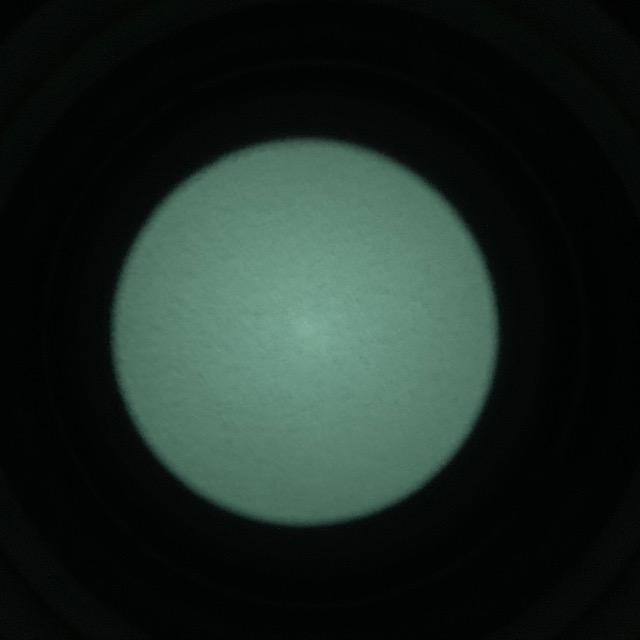 There are two points of importance here. First, if you see debris in the FoV that is slightly out of focus (when the objective is left at infinity focus as normally used for stars) then the debris is likely between the objective and the incoming tube window. If the debris is well focused, it is probably between the NVD ocular and the outgoing tube window. Cleaning both exposed surfaces when disassembled is probably necessary... I never actually saw these tiny specks on any of the surfaces, even though I knew they were there.
The ocular on my Mod 3C has very fine threads in what is probably Delrin. Be sure to turn the ocular counter-clockwise when re-inserting it, until the threads "click" into alignment. Then gently turn it clockwise to thread it back into the housing to avoid cross-threading.
Pretty simple maintenance... necessary from time to time.