G'day all,
I captured Jupiter last night as it passed through zenith. Winds were calm, but seeing was variable. I made my capture session into a cross-eye stereo 24-bit animation at 80% of capture scale (click for full size and color):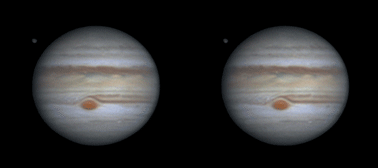 Jupiter w/GRS & Ganymede 2019-08-15 10:06-10:34 UTC
Cross-eye stereo animation
Skywatcher 180 Mak-Cass
Fujiyama 12.5mm ortho
Canon T3i
What I've enjoyed about using cross-eye stereo on Jupiter is that in addition to adding depth, it allows me to use my brain's optical processor to synthesize a better image than what either eye actually produces.
Cheers,
BQ
Edited by BQ Octantis, 15 August 2019 - 05:56 PM.