I've been thinking through a million different ways of making a heavy duty equatorial mount. My budget is very limited, though I do have a blacksmith/welding shop and several lathes at my disposal. I've built machinery before, such as a 75lb mechanical power hammer.

My plan from the start was to use tapered roller bearings in the mount, as they can handle radial and thrust loads very well, and the bearing are easily adjustable. Depending on the quality of the bearing, accuracy may or may not be an issue. It's hard to tell without a working unit and an optic attached.

I've run through many different ways of machining shafts and housings, and all of them wold work, but I have been trying to figure out an easier way. While sitting at my computer in the shop, I looked to my left and realized it had been staring me right in the face. On my mechanical power hammer I use an automotive wheel bearing for the rotating assembly.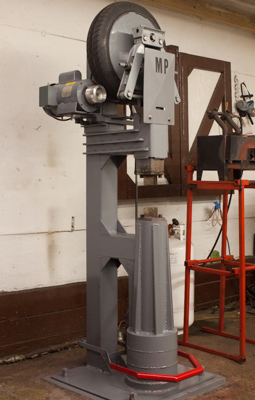 Stub axle/spindle and hub assemblies for trailers come in a variety of sizes, have tapered shafts, and bearing housings with flanges built in. They are very inexpensive, and can handle an incredible load. The one downside is the weight, but that can be worked around. The load ratings range from 1000 to 5000lb. I already have some new in packaging, rated at 2000lb with 1.75" shafts.

A pair of adjustable plates can be welded to the RA stub axle which would coincide with a thicker single plate on the mount base to allow for fine Alt adjustments on polar alignment, and a tab can be welded to the plates for your Az adjustment.

The hub can be drilled and tapped for a friction/locking screw to push against the spindle.

I can hob rudimentary worm gears from CNC plasma cut 1/2"aluminum sheet on my 13in southbend lathe, and then lap them to each other for improved accuracy.

The worm gear could be centered on the hub using shims or set screws using a dial indicator to eliminate most runout, and the worm gear could be sandwiched between the Dec weldment and the RA hub,

The worm wheel could be spring loaded in a housing which would engage or disengage with a cammed level, to act as the clutch, in combination with the friction/locking hold screw on the hub for each axis.

The RA worm, or both axis could be driven by a NEMA23 bipolar stepper motor, controlled by an aurduino uno and driven by the appropriately sized driver for the motor.

I think that it would be possible to build a mount with a capacity of at least 100lb if not 200lb for well under $1000 said and done, not including time spent. it would be used for visual and planetary photography.

The main things stopping me from building a larger scope is the lack of wood working tools, and lack of funds for a large equitorial mount. in theory it could be driven on both axis and even auto-guided, if I could gather the knowledge, experience, and need for such a thing.

The stub axles & hubs cost nothing as I already have them. Steel to fabricate the weldments for each axis is plentiful and would be free to cheep to me. The stepper motors and drivers would be a few hundred dollars for the pair. The worm gears and wheels would only cost me time and a coffee with breakfast for my friend to cut them out on the cnc plasma or mill. So, as it sits the cost would be around $500, allowing for an extra $200 in unexpected expenses and hardware.

The main benefit being that I would not have to machine housings and shafts, just weldments that would attach them and allow for the needed adjustments. The RA shaft could be drilled to allow it to be used as a peep sight for rough polar alignment if need be.


I think that I might give it a go once I finish up this 6in DK. Just some thoughts that I wanted to get out of my head and possibly get some feedback on. The fabrication aspect is plenty doable for myself.

-Matt


Edited by Matthew Paul, 17 August 2019 - 10:25 AM.