It's about two months that I'm playing with a Regal 65ED M2. Yes, it's a spotting scope, a well made one, not too expensive and compatible with standard 1.25" eyepieces. Here my impressions. English is not my native language, so forgive any mistake.



Intended use

A spotting scope is a refractor plus a 45° erecting prism in a rugged and lightweight package: nothing prevent to point it at the sky. However, the 45° prism is not as comfortable as a 90° star diagonal to observe (but it is much better than a straight through binocular), there is no (easy) system to add a finder or a red-dot and you are limited to 1.25" eyepieces. I think a spotting scope excels if you need a travel, sturdy, grab&go refractor to be used for both nature & sky observations (even if the sky part will get most of the use).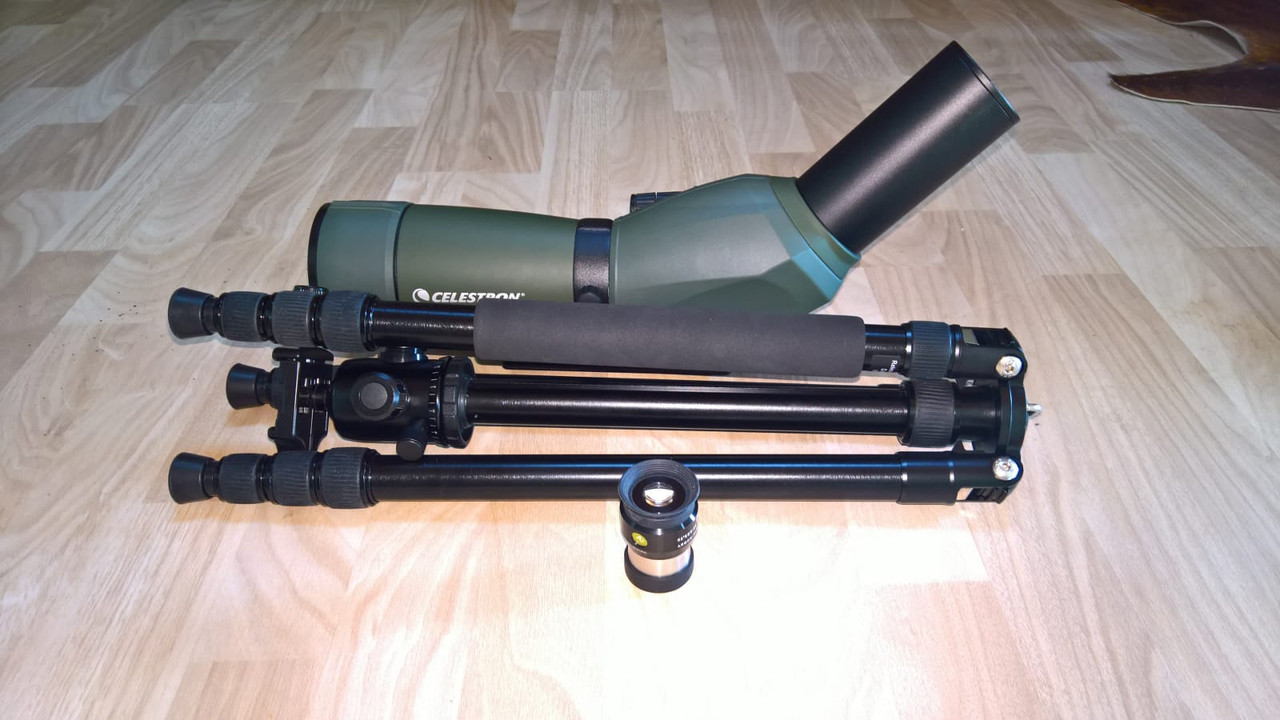 How small all the package (tripod + scope) is. The ES 5.5mm 62° is for comparison.



Specs

A 65mm ED spotting scope, with internal focusing and a magnesium housing. Sort of mid-quality zoom: 40°- 62° but with a large eye-lens and a much better eye-relief (20mm spec, can be used with my not-too-thick glasses) than the cheap models. Need refocusing when changing magnification. Weight is incorrectly specified: a bit more than 1600gr, and not the stated 1327gr. 



Mechanics

The scope has a major mechanical problem: it is back-heavy and it cannot be balanced with a short dovetail. The unbalance is severe, and it makes challenging using the scope on whatever mount, unless with a payload (and weight) that largely exceeds the scope's one. However, the problem can be solved. You need at least a 15cm long dovetail (I use an Arca Swiss one). Luckly, the dovetail can be fixed to the scope using two thumbscrews, so it stays firm once fixed.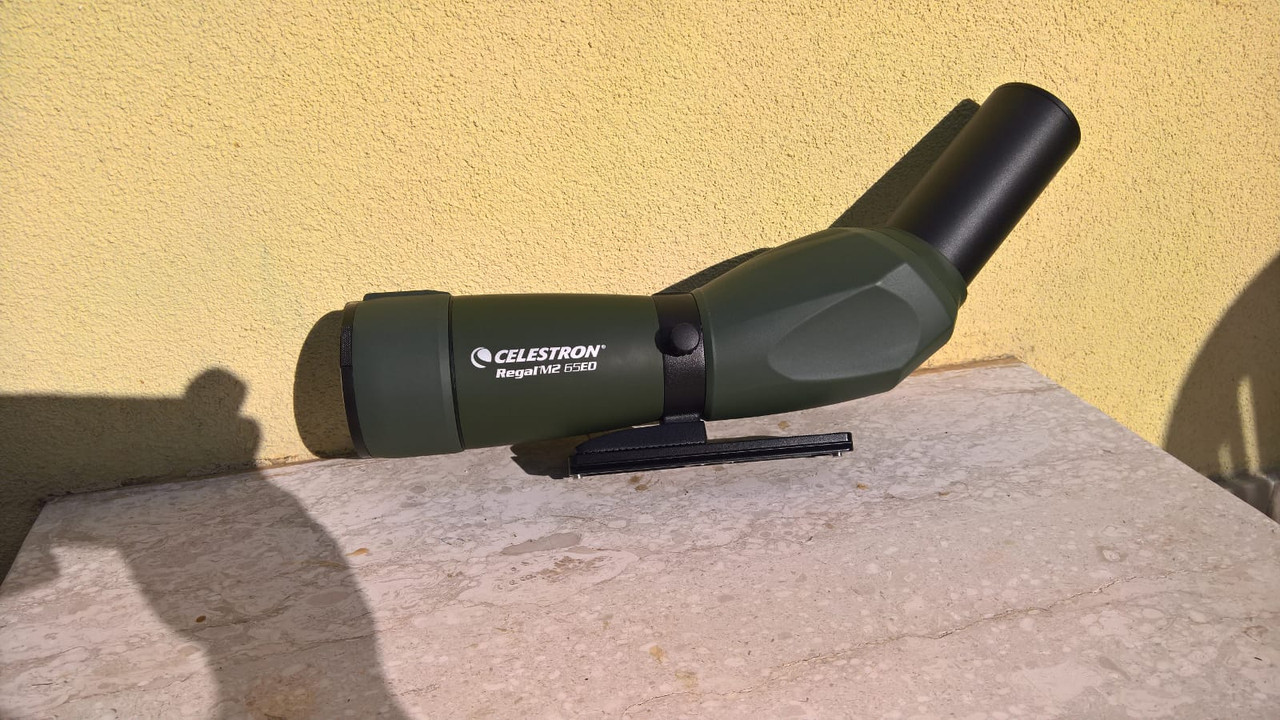 The scope with the long dovetail bar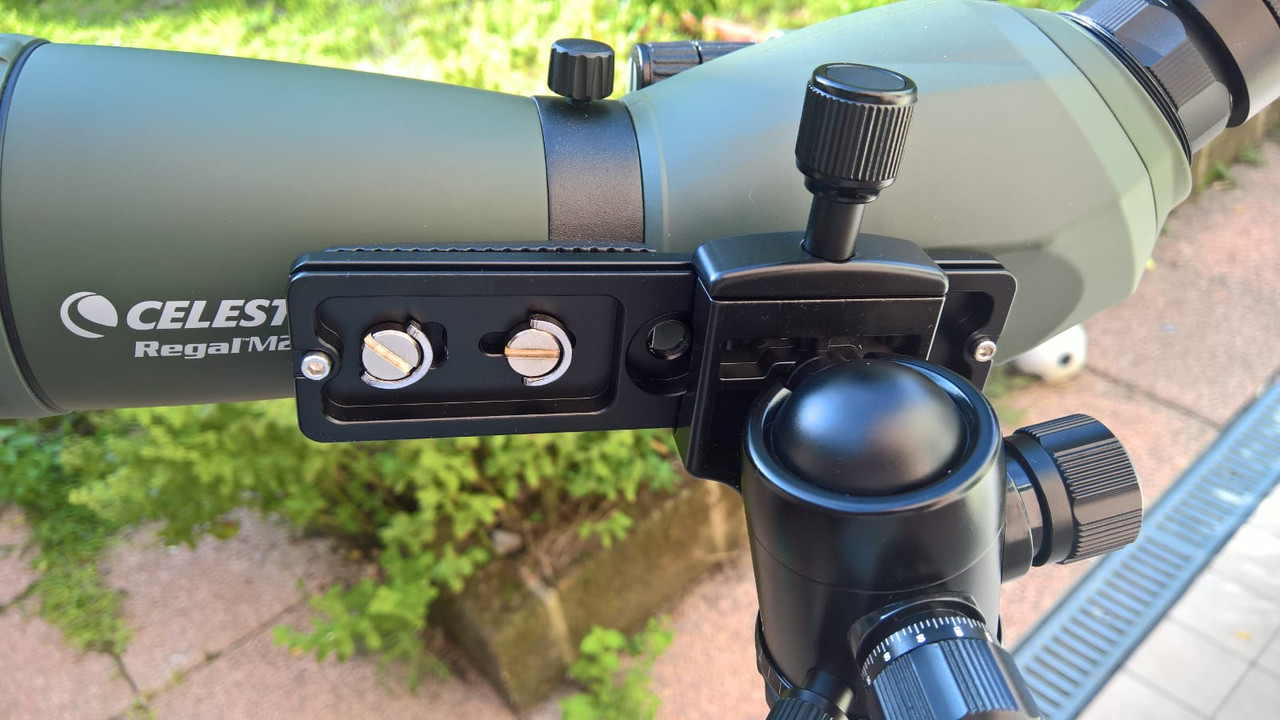 Note (i) the two thumb-screws to connect the scope to the dovetail and (ii) how far back the clamp locks the dovetail



Changing eyepiece is not as easy as in a traditional diagonal. There is a self-centering ring and, once you have turned it, some force should be used to pull-out the eyepiece. I think that's normal, as in that way all the system remains waterproof (there is at least one O-ring where the eyepiece is inserted).



Very nice the metal made "case" for the eyepiece, which screws directly on the scope and fully cover the zoom eyepiece (and whatever smaller eyepiece you put there).



The back part (diagonal + eyepiece) can be rotated. Hence, it is possible to mount the scope on a ball-head (see below).



CONTINUE



Edited by Riccardo_italy, 17 August 2019 - 04:04 PM.