I read here only sporadically anymore. Nothing has changed since the last 25 years and my absence from the amateur astronomy scene. It is just mind blowing the brainwashing that is going on in the refractor forum; I often wonder if the forum is full of flat earthers and moon landing conspiracists.
Although I don't contribute much anymore but I thought it is only fair I post some pictures of my Vixen VMC 110L modification.
Recap: I made a big fuss about fitting a prism to the back port of the VMC 110L:
https://www.cloudyni...-prism-blunder/
And maybe the following is useful for other people who want to get rid if the flip mirror.
1. Don't buy a Vixen VMC 110L. It is literally junk.
2. If pure insanity has overpowered you and you insist on buying one I would think it worth fitting a diagonal prism. If you don't mind f-ratios you can also consider mounting a star diagonal.
3. All I can say the Takahashi prism really reduces glare around the planets and I have had moments of fantastic views of Jupiter recently.
I was able not just only to see the Great Red Spot but also to see it in pink colour. And this from my flat window in the UK.
4. I was able to split Gamma Cassiopeia, WDS BU 1028 (magnitude 2.20/10.90, separation: 2.1", position angle 260 degrees) a double star in Cassiopeia. The dimmer companion with averted vision and moments of good seeing looked like the tip of a needle right outside of the first diffraction ring of the main component. This was not in the UK but in my native country in a valley in the Alps.
5. I also had great moments with Saturn. 2 brown bands and some shading on the North pole.
6. There are some unresolved eyepiece issues though when observing the moon (which I will post it in the coming days in the eyepiece forum).
Removing and binning the made in China and designed in Japan junk Vixen flip mirror
My photos are crap but will convey the message. When I took the photos there was a bereavement in my family.
Why do you need to remove the flip mirror?
Firstly, I aver it is an engineering disgrace and secondly if you want to use the top side eyepiece holder (see Figure 1) you cannot fully screw it in because the railing part of our junk flip mirror comes into your way. Alternatively, if you don't wanna trifle around you could use the back side adapter but this means you will fit your prism (and even more so diagonal mirror) a far distance out from the back port (see Figure 7) and your f-ratio and field of view will become even smaller than with the shorter top side eyepiece barrel holder.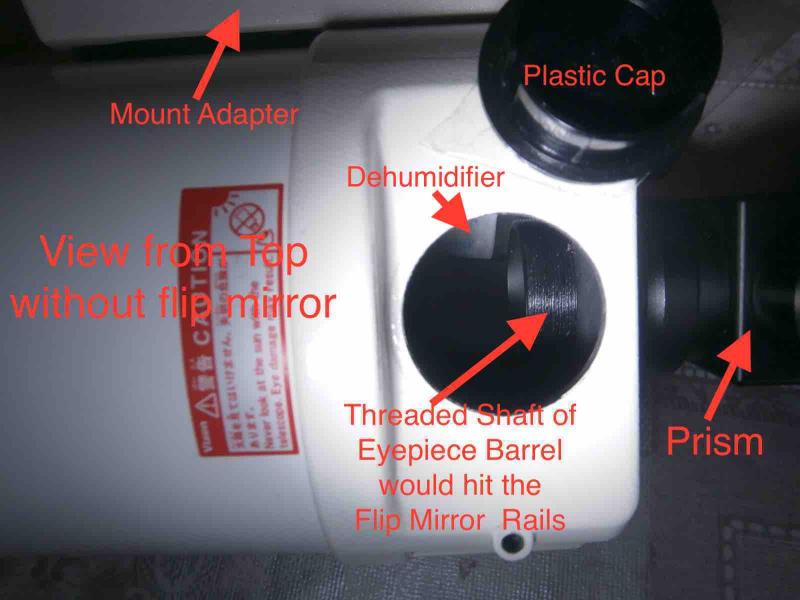 1. You can easily remove the main optical tube from the main mirror/baffle tube unit by unscrewing it (you unscrew it counter clockwise, right-hand screw). Figure 2 shows the unscrewed optical tube and the main mirror.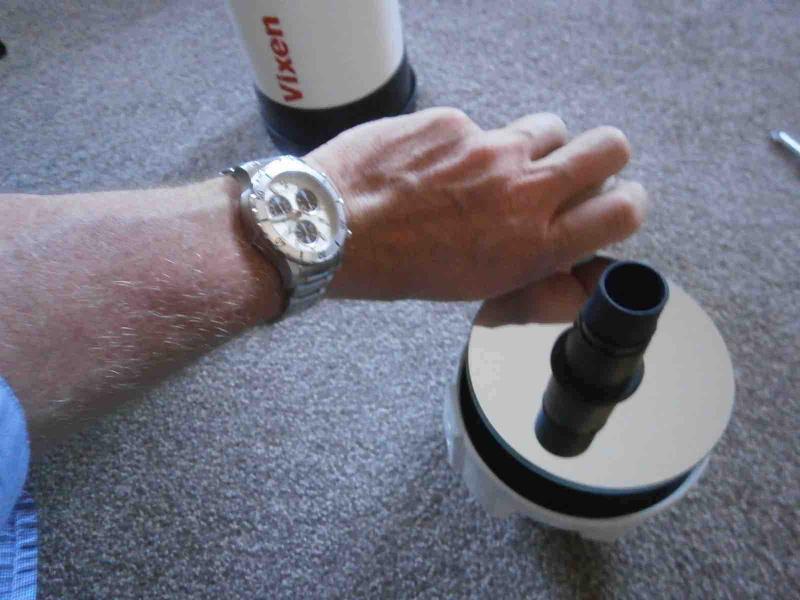 2. In the next step remove the main mirror. Just unscrew the 6 screws with a PZ-1 screwdriver until the screws fall out (see Figure 3). Also don't forget to unscrew the main focusing knob otherwise you cannot remove the main mirror/baffle tube unit from the housing case. For this I think you need a 1.0mm allen key for the lock screw. If the key is still too big file it to size with a wee little needle file (I only had a 1.5mm allen key at the time). Figure 3 shows the focusing knob with the rubber cup removed. The rubber cup is glued on but can easily be pulled off (they must have used something similar to Pattex ).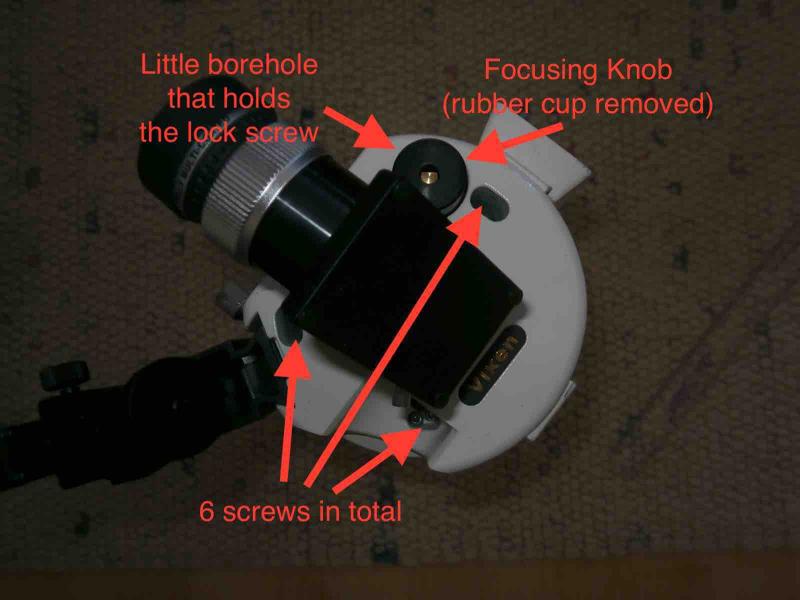 3. Once the main mirror has been removed from the housing body, you can remove the rubbish flip mirror and throw it into the bin (or bring it to the recycling centre and pass the bill to Vixen). Use again a PZ-1 screwdriver for the two little screws (see Figure 4).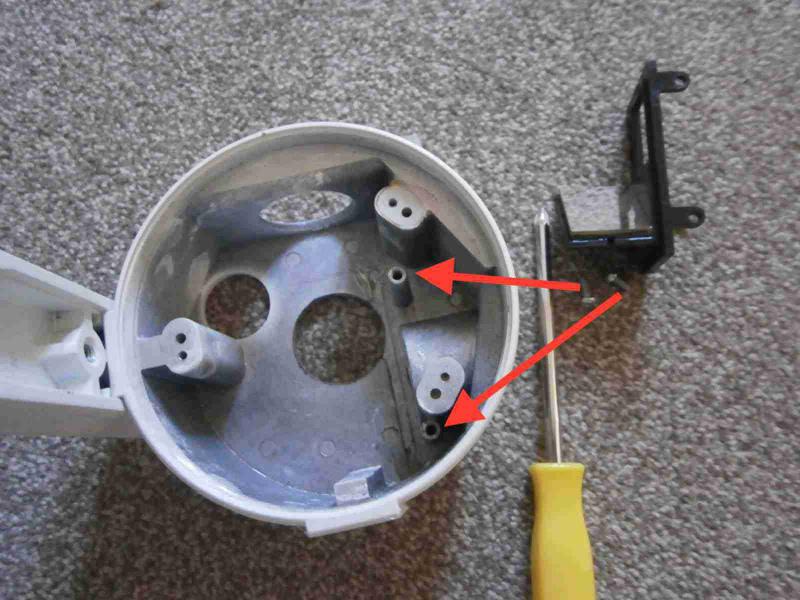 4. I used blackboard black metal paint to paint the interior of the back side housing part. I guess it won't make an iota of a difference and there are not many photons that have not been absorbed in the main tube. Use painter's tape to mask off the edge (see Figure 5 and 6). Figure 1 shows an arrow that points to a dehumidifier (the little bags that we often find with made in China products). I do not know what happened but it took more than 2 months until the smell of paint went away (paint was dry within 24 hours though).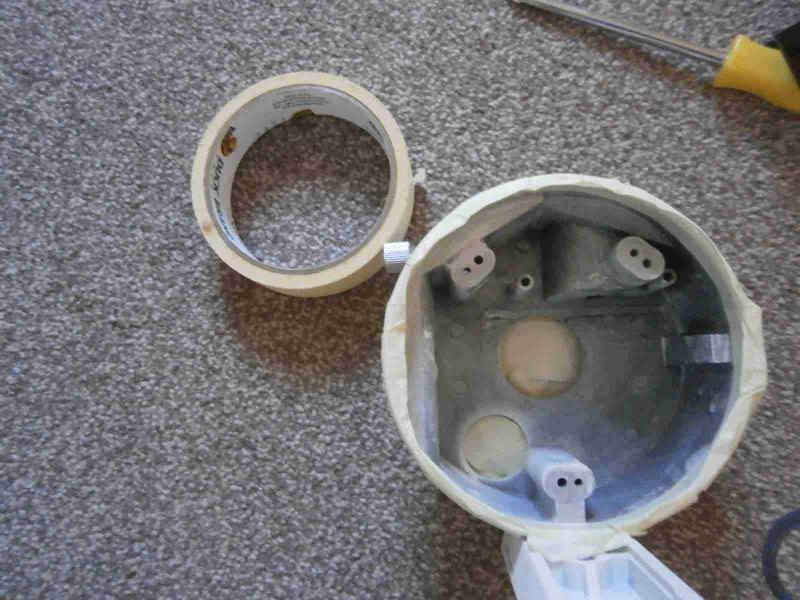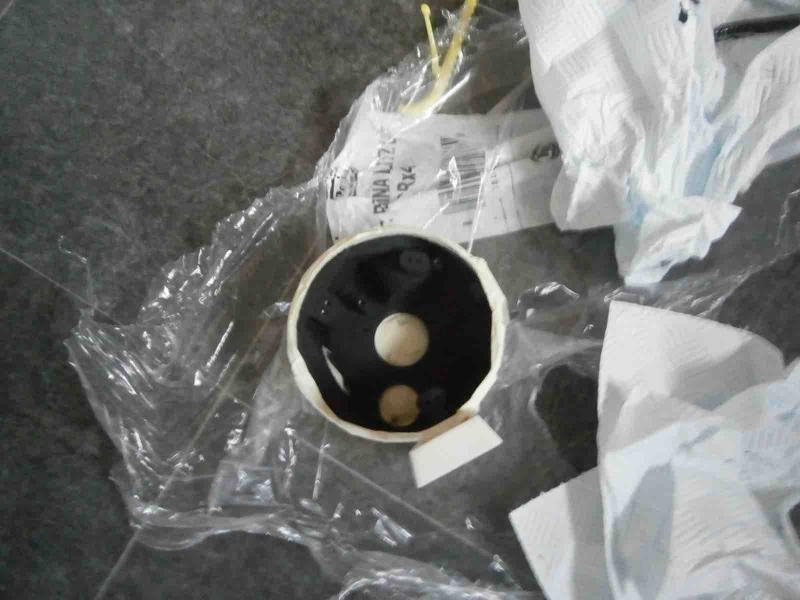 5. After assembly. I now use the top side eyepiece holder (which is 3cm long once fully screwed in, see Figure 7) at the back port. As Figure 7 shows this means the centre of the Takahashi prism is located 5cm from the back side port.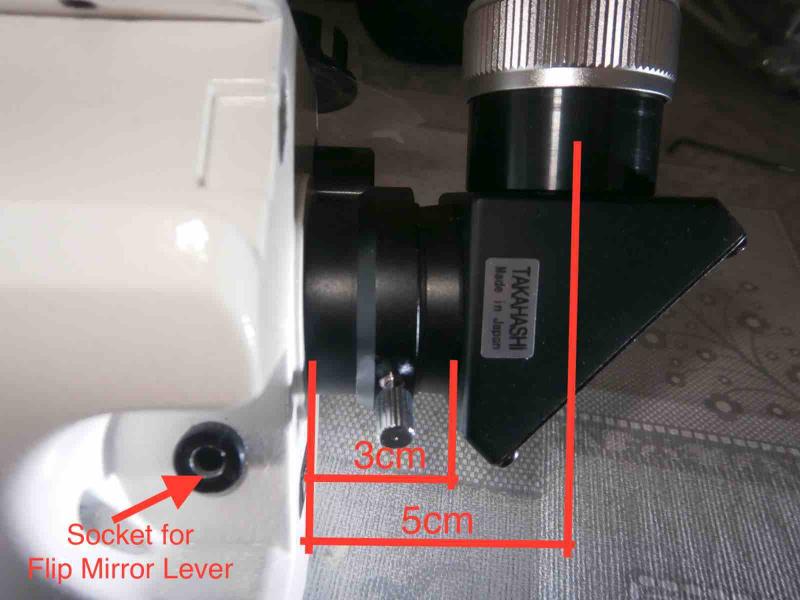 6. Collimation took me a few hours from my flat window in the UK. It was worth it because I ended up with textbook like airy rings. It also holds up after a British Airways flight from Heathrow to Europe (OTA in my cabin bag). There is no recipe for collimation. It is trial an error. The Cheshire collimation tool eyepiece with crosshair is pretty much useless except that you get a rough first ballpark collimation. Also the intra- and extra focal star patterns are pretty much useless (except for checking astigmatism). I don't care how my textbook like air rings in-focus look like outside of focus. I don't give a ****; all that counts is the in-focus star.
7. The prism has the effect that the main mirror has to move closer to the secondary mirror to compensate for the new location of the prism (in comparison to the flip mirror location). But this also has a consequence that the factory set focal length will increase and the focal ratio of f/9.4 will change. But by how much? Ideally we would need to get closer to the back port than the 5cm (see Figure 7). I bought a new 30mm Vixen NPL eyepiece. This again gives me roughly 1.25 degrees true field of view (compared to the 1.25 degrees with the 25mm Vixen NPL and 1030 mm focal length).
8. I did a star drift method (e.g. https://www.oreilly....04/ch04s15.html) with Jupiter to get an idea of the real new focal length. There are various reasons why I wasn't able to use a star from my flat window. Also doing this method with an alt-az mount is a pain in the **** as you need to make sure the start drifts along the centre of the eyepiece from one side to the other. The new focal length is 1150 to 1200 mm for the current prism set-up (see Figure 7). I think it is closer to around 1150mm (probably need to repeat it a few times to get some ideas of the measurement error; also the method is better for zero declination stars at the celestial equator):
Jupiter with 30mm Vixen NPL:
Time to drift through field of view: (5*60 + 20) seconds. Jupiter's declination approx. –(22 +11/60) degrees at the time of the test:
(5*60+20)seconds*0.2507*cos(-(22+11/60)*PI/180o)/60
This would give a field of view of 1.24o (60 in the above equation is the conversion factor from arcminutes to degrees).
For the 8mm Vixen NPL and 90 seconds drift:
90seconds*0.2507*cos(-(22+11/60)*PI/180o)/60
This gives a field of view of approx. 0.34o
For the 6mm Vixen NPL and 65 seconds drift:
65seconds*0.2507*cos(-(22+11/60)*PI/180o)/60
This gives a field of view of approx. 0.25o
If we assume f=1150mm:
e.g. 48o apparent field of view of the NPL eyepiece:
• 48o/(1150mm/30mm)=1.25o
• 48o/(1150mm/8mm)=0.33o
• 48o/(1150mm/6mm)=0.25o
Or with field stops:
• NPL 30mm: 25mm field stop/1150mm*57.269=1.24o
• NPL 8mm: 6.5mm/1150mm*57.269=0.32o
• NPL 6mm: 5mm/1150mm*57.269=0.25o
Edited by Magnetic Field, 18 August 2019 - 09:15 AM.