....here's a diamond in the rough.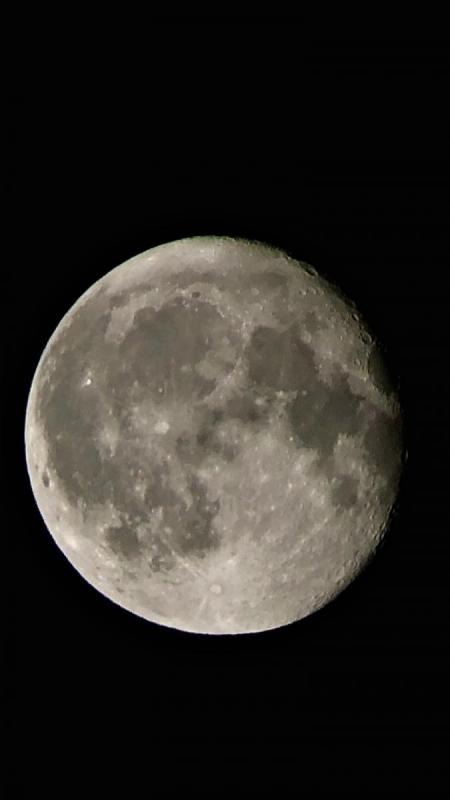 It's a simple one-shot using an iphone 8 held up to my Celestron Skymaster 25x100 "Flippin'-Huge-Binoculars" (which I bought in 2012 because I was too cheap to buy a telescope, and now I'm skint because I have crossed that fine line between "oh, it's just a hobby" and "cancel everything, the clouds have parted, I'm heading outside, bring me a sandwich"). iPhone 8: your days are numbered, Apple - my next phone is an Android, but I digress..
We had some friends and their four 10 year old-ish kids over and the two boys are mad into planets. For now, granted, soon enough they'll be mad into girls, then they'll get married, and soon enough they'll be mad into planets, or whatever works as an excuse to get out of the house

.So, without promising anything, I set up outside and when the clouds cooperated I called them out. They were blown away with a wobbly Jupiter and practically drooling at Saturn and its rings being deep fried in a pot of questionable lard. Full of questions which I could answer (mostly, I bluffed occasionally) and totally impressed with the goto function of the scope ("Wow, high-tech!!")
Back in the house I processed the captures and they were poor, as anticipated, but I'd like to think it made an impression. Maybe one of them will set foot on Mars some day and grow a potato in memory of me? Who knows.
Anyway, shortly after the moon crept up over the sea and what better way to take it in than in stereo through a pair of good binos, albeit through a window. "Wow, you can see the bumps!".
Throughout all this time not one of them looked at their phone, which for me is the true litmus test of engagement.