Greetings!
I would very much appreciate recommendations of good quality camera lenses suitable for astrophotography. I've cobbled together some equipment to mount such lenses with my astronomy cameras, and it is painfully apparent that most of my existing terrestrial lenses are ill-suited!
It's not often that I am willing to post such a lousy image (see the next post), but I made a test of this new equipment configuration that I gathered together using mostly pieces and parts I had lying around amongst my astrogear collection. For terrestrial photography I have an old, venerable Nikon D80 as well as an assortment of Nikon F-mount lenses. I purchased F-mount adapters for both my QSI 683 and FLI ML16200 cameras and determined that each is properly spaced for these lenses. I also purchased a PegasusAstro FocusCube 2 and a belt and pulley system that turns the focus ring of the lenses. Using two spare dovetail plates, I bolted it all together and still had room for a finder scope for autoguiding. I managed to squeeze a Stellarvue finderscope into a Celestron ring and drilled the Celestron bracket out to bolt to the top plate. This is definitely a Frankenstein monster of a system with practically every astronomy accessory company represented. That last statement is an exaggeration, but saying it makes me feel good.
Here's a picture of my collection of spare parts flying in formation (taken with that Nikon D80 that I mentioned). Here I am using my FLI ML16200 (hidden in the back) and FLI CFW2-7. Attached to it is an old Nikon lens of mine (AF-S VR Zoom-Nikkor 70-300mm f/4.5-5.6G IF-ED) that serves me well for photographing nature, wild animals, even wilder children, but not so much nebulae (more on this later). You can also see the finderscope with SX Ultrastar M guide camera. Velcroed to the FW is a small 4-port StarTech industrial USB hub (peaking from behind). This is all a surprisingly heavy assembly, but it rides well on my Mach1 mount.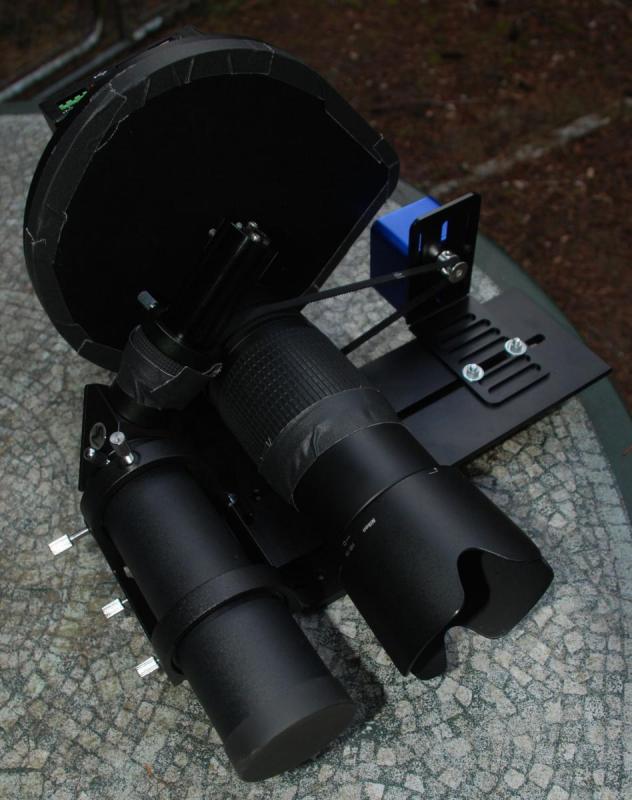 And here's a view from the back camera side: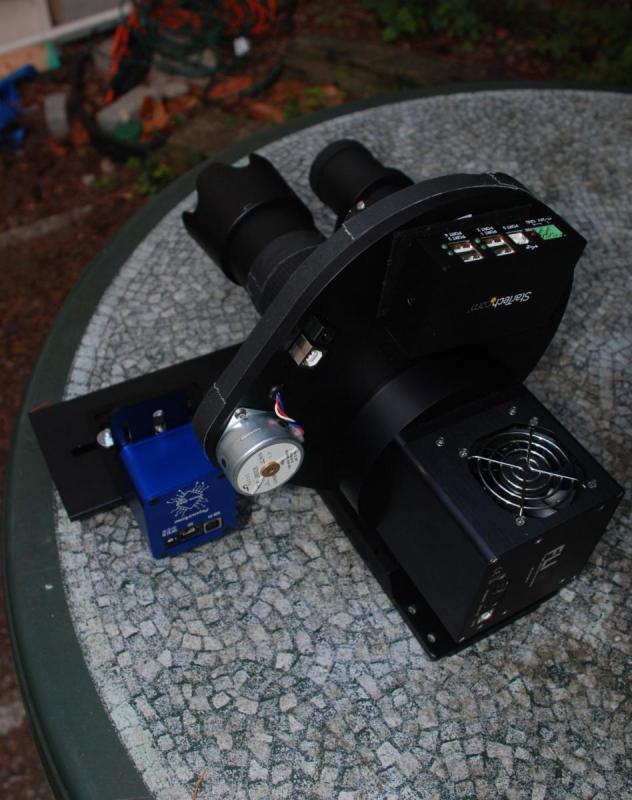 What pleases me the most is that I got to reuse lots of spare parts that were otherwise lying around idle. The FocusCube is bolted onto the cross plate in such a way that it can easily be adjusted for just about any lens / CCD camera combination. Having used all of this for one night, and one night only, so far, I can say that the focusing appeared to be adequate, although certainly not exercised with a quality lens. The autoguiding worked just fine at such a wide pixel scale (over 4"/px!). One very important thing lacking is a mounting ring or two to keep the lens better anchored to the assembly. There was definitely flexure between the lens and finderscope, and I'm certain the movement was mostly in that lens. At present I can only anchor the FLI camera to the plate, and having a ring on the lens would have helped immensely with stability. I know that ADM carries rings of proper size.
Next I'll post the lousy image and cuss and discuss it ...
Best Regards,
Ben
Edited by BenKolt, 20 August 2019 - 10:36 PM.