Greetings!
This is a SHO palette NB image of the central portion of NGC 7000, the North American Nebula, highlighting the Cygnus Wall. This is (S,H,O) = (2.5,2.5,2.75) hr = 7.75 hr integration time with my QSI 683 camera and Tak FSQ-106 scope. This put the image at a scale of about 2.1 "/px.
Now that I've had a couple of days to look over my processing results, I need to comment on a few things:
I chose to keep some of the green (maybe more than "some") in as I like seeing the contrast of the blue-green shades showing regions of varying mix of H-alpha and OIII. This is a matter of taste of course. In the future I intend on going back over my recent NB images and playing around with different palettes. This will be something to do during the dreary, cloudy Fall and Winter nights to come.
I've been preferring to remove the magenta star color by inverting the color image (magenta transforms to green), applying SCNR in PI to remove much of the green, and then inverting back. The result is a field of mostly white stars, but not overpowering here. I've tried much more involved steps in the past, but this method has worked the best for me.
Now that I look more closely, I was too heavy handed on the noise reduction (NR). I applied MureDenoise to each channel prior to color combination. And then later during the nonlinear stage I hit it hard with TGVDenoise. Next time I'll dial these steps back a bit, perhaps blend with the pre-NR image to balance it out better. For now, I'll leave it be.
This image benefited from application of HDRMultiscaleTransform to bring down the brighter regions, which were a bit saturated otherwise, and to bring up some of the darker regions by a little bit. This brought out some nice contrast. What did not work for me, and I ended up not using it all, was the DarkStructureEnhance script in PI. I need to learn more about this process and when and how to apply it because this time around I saw hardly any change.
Given the resolution of 2.1 "/px, I wasn't in the right place for Deconvolution. I tried DrizzleIntegration, but then I realized I really wanted to use MureDenoise, and it is my understanding that this step is best applied to the combined channel images (just after ImageIntegration) prior to any other steps. If anybody has some guidance on how to combine DrizzleIntegration with MureDenoise, I'd like to hear it! That would be a powerful combination if it can be pulled off.
Thank you for your attention, and I hope you enjoy the image. As usual, your comments and constructive criticism and suggestions are always welcome! I'll copy my fuller description below and also link the higher resolution images.
Best Regards,
Ben
Higher Resolution Links: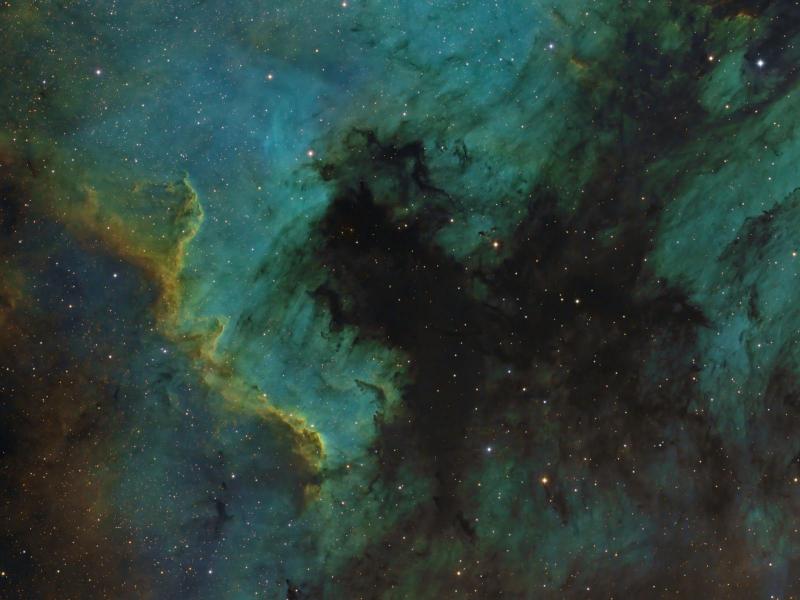 AstroBin Description
This is the central portion of the North American Nebula, NGC 7000 or Caldwell 20, highlighting the Cygnus Wall in the SHO palette.
NGC 7000 is a large nebula complex in Cygnus near Deneb. This section I have imaged shows the Cygnus Wall, a region of star formation. It somewhat resembles Mexico and Central America, hence the name North American Nebula, although that shape may be harder to see here.
The distance to NGC 7000 is not precisely known, nor is the star responsible for illuminating the nebula. If it is nearby Deneb, then the distance would be on the order of 1,800 ly with size about 100 ly.
I have imaged this in NB using the SHO palette. I have come to enjoy keeping more green in my SHO images as this tends to help discern regions of highest OIII density vs. mixed regions as seen here. It's a matter of taste, of course.
I hope you enjoy this image. In the future I would very much like to image with a shorter FL camera lens, perhaps on the order of 300mm or smaller, but first I need to purchase such a lens. Recently I confirmed that my cheap, terrestrial zoom lens, which does extend to 300mm FL, is grossly inadequate for astroimaging. Something for me to look forward to!
P.S. Interestingly, on the AstroBin site it looks like my annotated version is shown when you pass your mouse cursor over the original (final) version on the main page. At least this is the behavior that I am seeing right now. I hope that action remains for you as well. Also take a look at the inverted images as they really highlight the Cygnus Wall quite well, giving it an almost embossed look.