Inspirated by this topic, I went to look out for these "double doubles" in Lyra.
The first and most famous one is of course Epsilon Lyrae. The colors appear white, maybe a bit yellowish at times. The four stars have almost equal brightness, although B from STF 2382 (down left) may be a bit dimmer. The separation seems to be the same too and I like the fact that the two doubles make a 90 degree angle.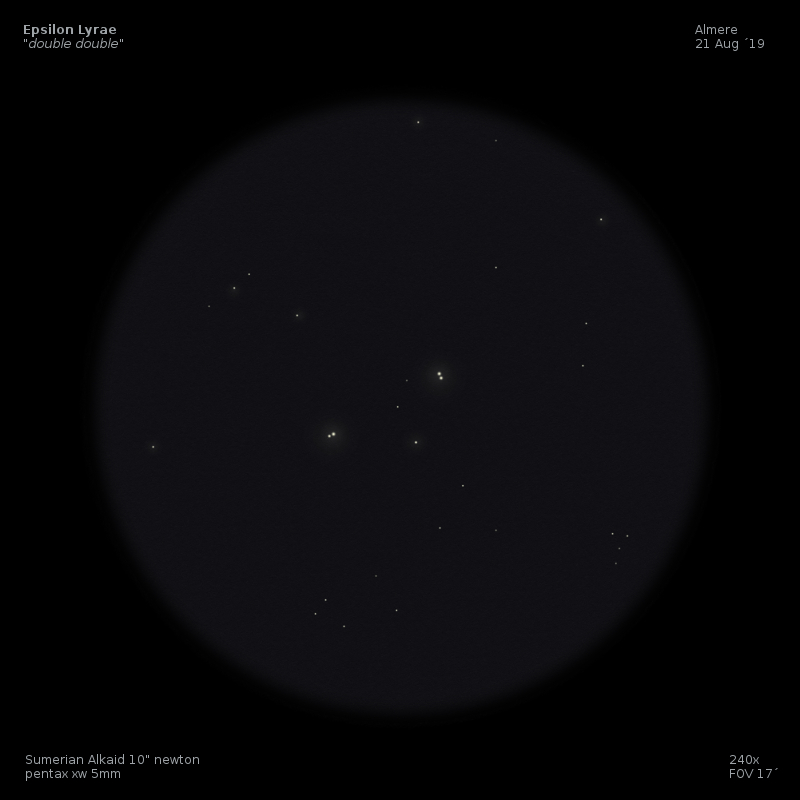 Then on to the "other double double": STF 2470 & 2474. These are wider and less bright, but still a nice view. The color differences are subtle, but on the pair on the right I see that the main star is yellow. The difference in angle is only 10 degrees, so they appear to be pointing in more or less the same direction. I had already sketched this pair in 2017, but I'll show it again for completeness.
Less known are STF 2472 & 2473 because they do not immediately appear like a true double double, but they really are... STF 2472 is the whole of 5 stars, of which the main component is yellow. At the bottom are components C and D, which form STF 2473. Together with some other bright stars it's a nice view.