I finally have an image to show from a nights effort. I know it has a LOT of flaws and issues.
That said, I am so thrilled to finally have an image any image! To use a golf analogy, on the worst day out on the course, it only take one birdie (or par for me lol) to keep you in love with the game.
I started this journey a couple years ago. I was under dark skies and got a few awesome Milky Way shots. In my mind anyway. I had no idea. I went out there a few more times and got some more cool shots, and the infatuation grew. I went to a telescope store and they sold me a CEM25P so I could take longer exposures. I had no idea. Since I do this kind of thing for a living (photography), I figured this would all be easy.
I. Had. No. Idea!
Fast forward a couple years, mount used maybe twice, I got **** and decided "I can do this!" I found CN a couple months ago, and everything started to become clear. I was a moron!! I knew NOTHING!
I lost a few weeks trying to get my D5 and/or Z7 mounted and running on a clearance SkyWatcher ED-80. I had fits with a defective Toupcam guide camera. Got that sorted out, and got better at guiding more or less by stalking Stelios and BobZ among others. I picked up a mono camera and filters (ASI1600MM-P-C and 31mm ZWO EFW). Found out I didn't quite have the guiding sorted out, but got "sorta" first light with Ha on the Eagle Nebula. WooHoo lol! That was enough to get me to disassemble and repair the loosness in the mount. I finally got the guide cam in focus, and semi aligned. Backlash better. East weighted I think.
Then the weather hit, and I had a lot of time to read Brackens Deep Sky, and Kellers Inside Pixinsight. BobZ led me to AstroPixel Processor, and I practiced a bit. He also suggested I skip the Veil as a first target... and he was probably right! But I seem to have a hole over the house this last week with a circle of fog and or clouds all around. I can see above about 45* for about 4 hours. guiding is getting better, and I can get decent 3 min subs, and even 5 min here and there with better seeing. (Yeah, I know what "seeing" is now!). I had a really good night about a week ago, and managed an hour on the Veil shooting Ha 5 min subs. then the flip, and the 3 hours after are really well guided out of focus subs. AAaargh! Another scope shop run, and I added a Sesto Senso to the rig.
Three nights ago I got polar align to excellent. The guide camera is in focus, the main camera is in focus, everything is singing, and I get a few Ha subs before the flip, go the system happy again after the flip, guiding well, imaging started, and off to bed.
The dew heaters I ordered arrived today lol. Yup, logs and images show that the dew point hit at the same time the system went white.
But hey! Not to be dissuaded, last night I tried again. Weather was great for once and I managed a couple hours of both Ha and OIII before the view was blocked.
I know I didn't process this well, and I know I still have a bit of elongation likely from weak guiding, and I 'm pretty sure it will look much better when I can manage an LRGB pass in dark skies, but this is my first legitimate image from the new system.
Have at it! I am wearing a helmet.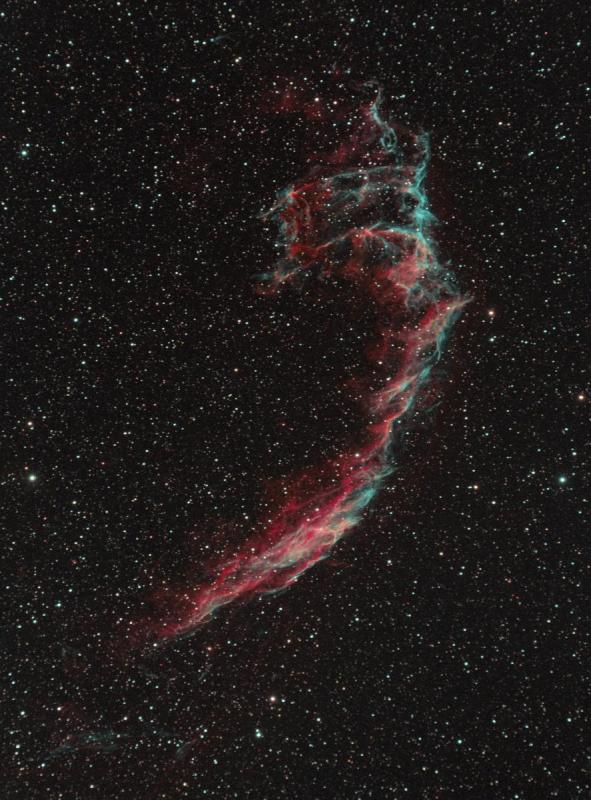 Edited by richorn, 22 August 2019 - 04:44 PM.