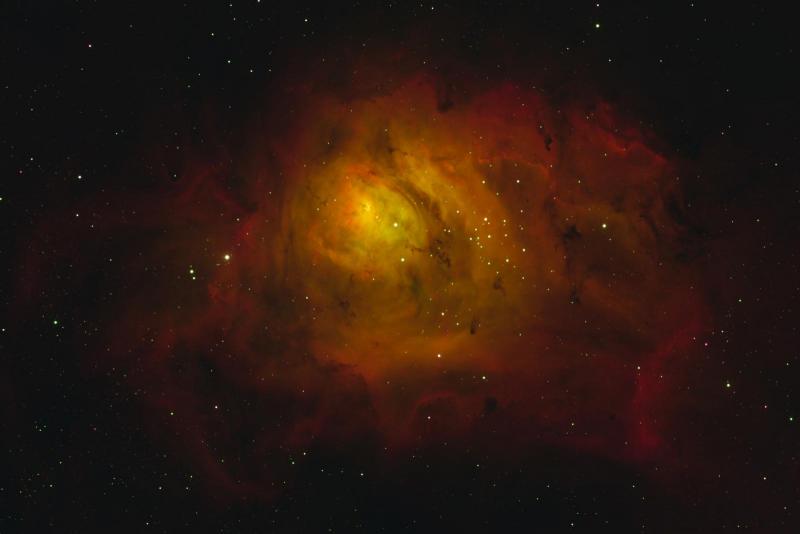 Lagoon Nebula (M8) narrowband
I imaged the Lagoon Nebula just 2 weeks ago with the ASI294 MC Pro. I was not really happy with the result and it was time for first light with my new ASI1600 MM Pro monochrome camera and my first attempt at narrowband imaging.
I was a bit confused how to process the data but some friends confirmed to treat each channel like a separate image (calibration, registration, integration). The resulting masters were processed with Dynamic Background Extraction and Multiscale Linear Transform. I then registered the 3 linear masters with each other and used simple Pixelmath to make an RGB. This was slightly processed (Dynamic Crop, Histogramm Stretch, Curves, Morphological Transformation (to decrease star sizes and to eliminate the tiny stars), and finally a little Unsharp-Masking to make the stars pop a bit.
Unfortunately, clouds came while S-II data was acquired so I had to shut down with S-II only 30% done. I will collect some more data and will then reprocess everything.
However, I am quite happy with this first result. I have included a link to the Astrobin higher resolution image and also a link to the OSC image from two weeks ago. Note that besides broadband vs. narrowband the images were taken with the same telescope and the same total data acquisition time from the same suburban location. Seeing was better during the narrowband imaging. Both images suffer from my lack of skills and experience in imaging and processing though.
150 secs per subframe, 16 H-a, 16 O-III, 5 SI-II, ASI 1600 MM Pro with Astrodon 5nm filters.
35 secs per subframe, 158 subframes, gain 117, ASI 294 MC Pro.

Everything was guided with PHD2, imaged with Sharpcap, and processed with Pixinsight and Apple Photos.
Any tips for improvement or comments are highly appreciated. Thanks for looking.
´
Clear skies,
Ecki
Edited by Camissa, 22 August 2019 - 05:33 PM.