Here is a preliminary result from a successful imaging run the other night on Saturn, our ringed wonder. Over the course of some 2 hours there were moments of fair to good seeing. The resulting 27 videos of around 2-1/2 minutes contained 15,000 frames each. Depending on gain, the frame rate was around 95 fps, but sometimes as low as 75 fps. Here's the equipment used:
Celestron-11, f/17, 4750 mm focal length, Celestron 2X Barlow lens set on nosepiece of camera
ZWO ASI290MC camera
ZWO ADC, atmospheric dispersion corrector set at maximum correction
MacBook Pro computer (mid-2012), 16 GB memory, 500 GB SSD, USB 3.0
At the time of capture Saturn's disc had an angular extent of 17.8 arc-seconds. Sampling was 0.13 arc-seconds per pixel. The resulting 87-1/2 GB of video is taking a while to sort through and process. Early on the seeing was terrible. But some of the later videos are promising. Yet the low elevation of around 23° limited what could be captured. Also the relatively brief periods of good seeing limited the number frames of sufficient quality to include in the stack. Still I was pleased with some preliminary results.
Here is the work flow:
Image capture via FireCapture 2.6
Stacking with AutoStakkert!-2
Wavelet sharpening by Registax-6
Final adjustment by Adobe Lightroom-5
Following some very useful advice by forum members, each video had the best frames stacked at the 5%, 12%, 30% and 75% levels. Sharpening and RGB align were applied in AutoStakkert!-2. As yet drizzle hasn't been explored. But that will be applied once the better videos are identified.
Registax-6 is always an adventure, exploring the multitude of options available. Of the avenues most often used were "linear" and "Gaussian". Wavelets 2 and 3 were most useful, along with wavelet 1 for the best stacks. RGB align was again employed, along with appropriate noise reduction in each wavelet.
So here is a preliminary result: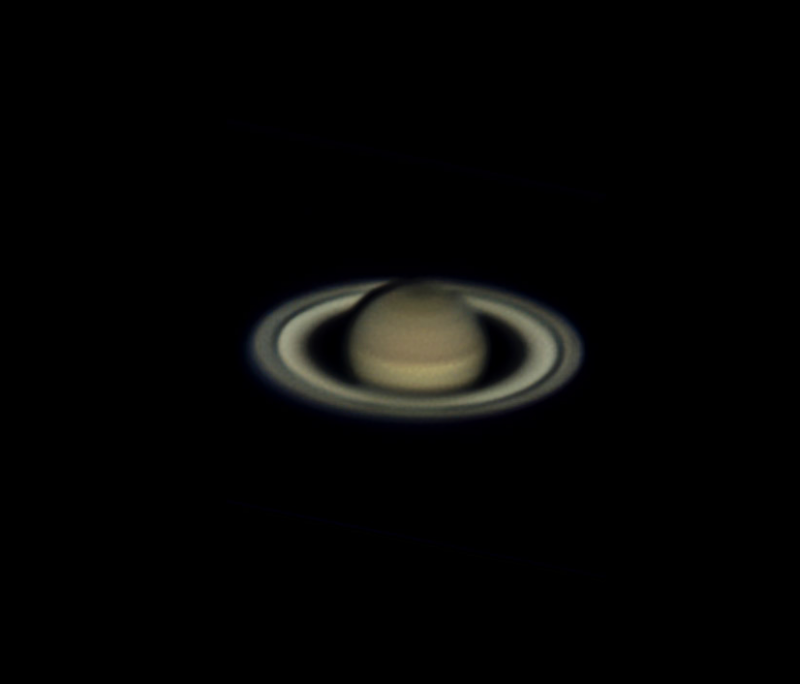 C-11, ASI 290MC, ADC, best 5% (750) of 15,000 frames, stacked with AutoStakkert!-2, sharpened with Registax-6
There was a tradeoff between fewer, sharper frames stacked producing a noisier image. I'll share some other results from the 12% and 30% stacks when these have been completed. The larger number of frames showed less detail, but a smoother image, particularly on Saturn's disc. One continuing problem was a stacking and sharpening artifact where the ring went behind the disc on the sunlit side.
There will be more results as I have time to further investigate the 87 GB of videos.
Regards,
Russ
Edited by Rustler46, 22 August 2019 - 07:35 PM.