Due to a combination of travel and hectic work commitments, I've fallen drastically behind on my image processing. So, to quote a movie lyric by Trey Parker: "we're gonna need a montage!"
In the "warts and all" spirit, I have included a mix of imaging conditions and data quality. I have also kept the processing similar between images, so that the differences you see will be primarily data quality.
On many of the nights there was a gusty breeze, which is unusual here (unless it's about to rain). For the images in mid to late July, this was causing an extreme amount of image shake and is actually the primary reason for the blurring in these images. I eventually realised the screws for the adapter plate on my iOptron tri-pier had worked themselves slightly loose, compromising the rigidity of the mount assembly. The situation was much improved for the final session in this series.
All images taken with my standard setup: C11, CEM60, ASI290MC, PowerMate 2x, UV/IR cut filter, ZWO ADC.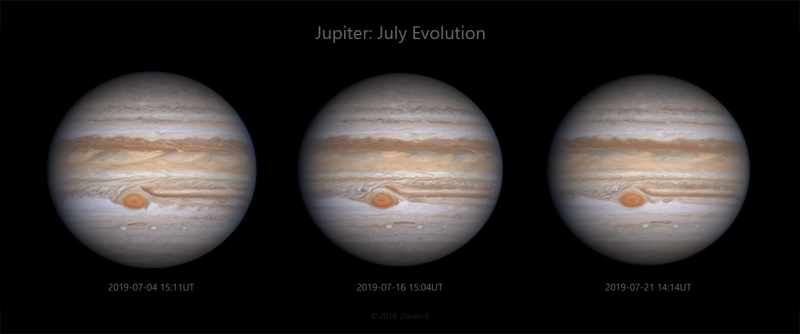 Montage of three imaging sessions
Upon loading the images into Astrobin, I realised I had (quite accidentally) captured almost identical aspects of Jupiter on the 4th, 16th and 21st July. This allowed me to create a montage (and animation below) illustrating the relative motion of Jupiter's cloud formations over that 2.5 week period.
[to be continued ...]