G'day all,
I should start out with an homage to Australian bush dance. The seeing last night was predicted to be the best of the week, but my wife insisted on dragging me to a local bush dance. Not that I should complain—she and I grew up going to barn dances in Texas, so I felt right at home. I relished at seeing so many young people (including my older son) enjoying such an old tradition…and I couldn't help but marvel at how the do-si-do crosses so many centuries, cultures and continents!
So we'll have to make do with tonight's best-of, a brief interval of 1025 good frames in otherwise mediocre seeing: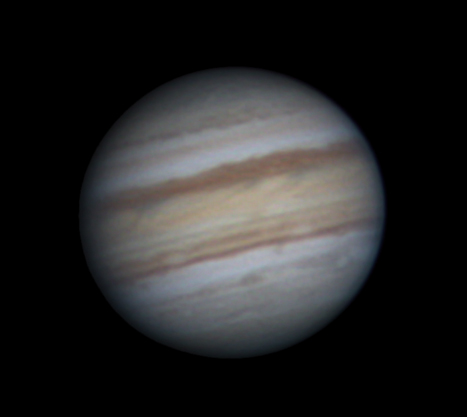 Jupiter w/Oval BA 10:02 UTC
Skywatcher 180 Mak-Cass
Fujiyama 12.5mm orthoscopic
Canon T3i, 1025 frames
Cheers,
BQ
Edited by BQ Octantis, 24 August 2019 - 07:00 AM.