How do you do?
The link to my Vixen modification can be found here:
https://www.cloudyni...i-prism-fitted/
1. The prism greatly reduces glare around the moon and planets.
2. The outstanding issue is only a concern while observing the Moon.
The Takahashi prism has reduced the effect but not fully eliminated it.
The following Figure on the left shows what I see when observing the Moon with a 6mm Vixen NPL eyepiece. This is also there while observing the Moon with the 7.5mm Sky-Watcher Ploessel. There is a brighter outer ring and darker inner regions. Often I think it is the other way round. It cannot be the secondary because the inner shadow is much larger than then 37% obstruction of the secondary.
The Figure on the left shows what I see glancing at the eyepiece from some distance (e.g 20cm or so). They can also be seen in the Sky-Watcher 7.5mm eyepiece. First I thought this are multiple internal reflections of something (e.g baffle tube) and due to the eyepiece design. I dismantled the Vixen NPL 6mm eyepiece to check if the lens edges are blackened and they are (I haven't checked it for the Sky-Watcher). The strange thing: when I rotate the eyepiece those dots stay at the place and do not rotate with the eyepiece (it cannot be lens glass imperfections in the 6mm NPL or Sky-Watcher 7.5mm).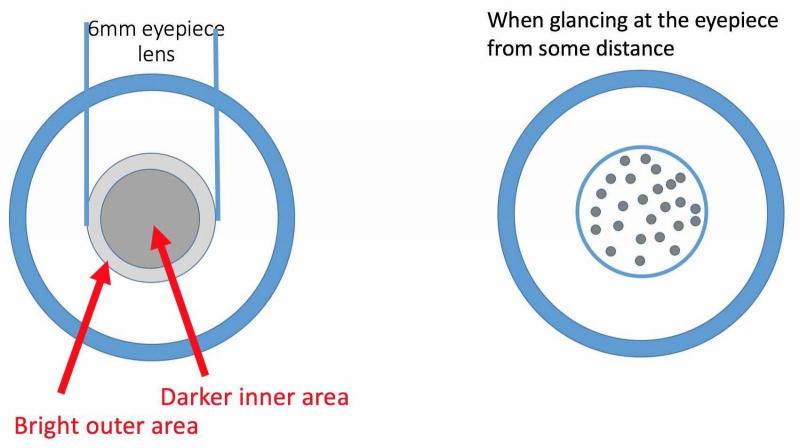 I have have included a Figure that shows the interior of the OTA. I was thinking of flocking it. But would be surprised this causes the Moon artefact.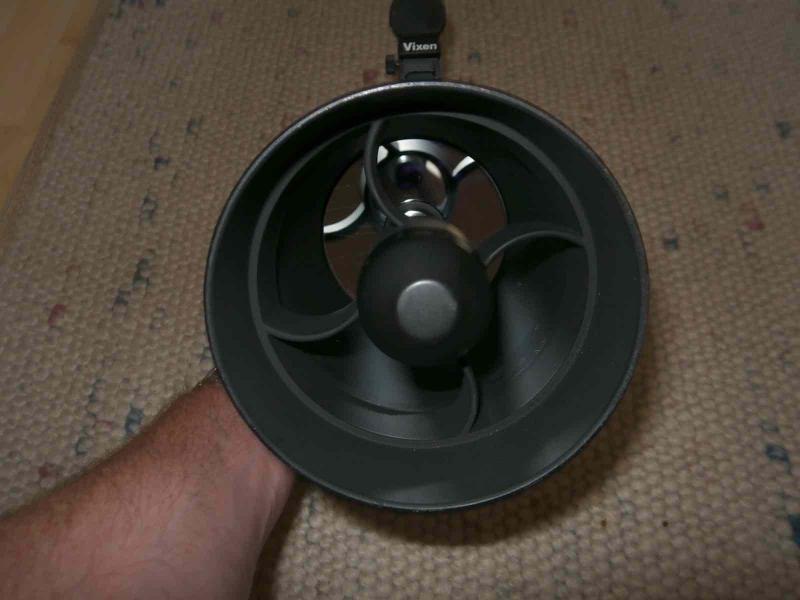 Has anyone any ideas what is going on here? Again the prism has greatly reduced glare around the Moon (and planets in the 6mm eyepiece look really great) but not the shadow effect as seen in Figure 1 while observing the Moon.
Edited by Magnetic Field, 25 August 2019 - 08:54 AM.