After battling my new to me mount for a while and learning auto guiding I finally got a good night of clear skies with no equipment issues last night. It was also my first capture using dithering and it seems to make a huge difference in noise and i chose to gather more data rather than capturing dark frames. This is my first planetary nebula.
The difference in exposure times is because i had around 45 minutes of 120s exposures from a test session and they improved the final result.
I am pretty happy about the result, maybe a bit over-saturated in the reds. Not too happy about the brightest star either but i am not sure what can be done about it. Overall i am happy to be imaging again and looking forward to fall/winter when i can get going much earlier in the night and gather more data. I do no think i will be returning to this target for now, i think my fall project will be an M31 mosaic.
Processed in Photoshop using Astronomy Tools Action Set plugins. It is cropped a good amount since it is a small target.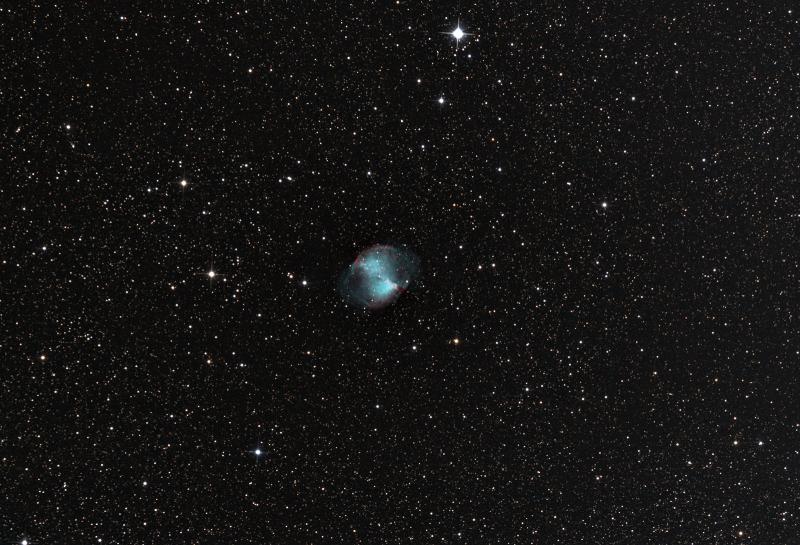 Full resolution here: https://www.astrobin...422588/?nc=user
Gear:
Skywatcher HEQ5 pro
TS optics Photon 6" f5 astrograph
Canon EOS 450D, unmodified
TS-Optics Coma Correcter Maxfield 3-Element x0.95
50mm guidescope
Data:
27 x 120s
43 x 180s
Roughly 3 hours of data
Flats
Bias offset
Effective FL; 712mm
Image scale 1.51"/px
I am always looking to improve so any comments and criticism is always welcome.
Edited by Rhinottw, 25 August 2019 - 09:08 AM.