Well it arrived!
OMG its HUGE!!!
ever thought of going from 102 to 130 ??
Well this is what your up against!!!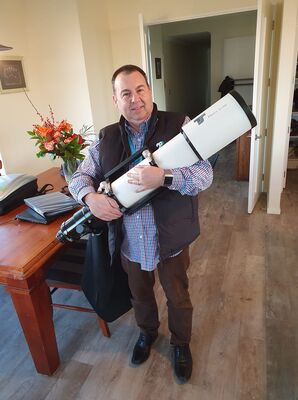 First thoughts:
1. TS Express have been awesome to deal with so far - good comms and very helpful
2. extremely well packaged - no case supplied these days with them but still very nicely double box
3. Out of the box - wow this is nice - feels like quality instrument - the 130mm triplet lens cell looks nice and is well coated and the tube has more baffles than hot dinners!
4. Def glad I went with the 3.7" focuser - very smooth and robust - has adapters to bring the focuser down from 92mm to 68 and to a 2" and 1.25" EP adapter - it even has a very nice roto lock style EP holder!
5. Tube has a nice rotator fitted to the focuser - very nice and smooth with some teflon looking material inside it I can see to allow easy turning
6. Tube rings are CNC machined and very nice - the V style bar is a waste of space for this size tube - good job I have a long ADM one to fit
7. Weight is about 11kg bare tube and focuser - not light but not too big to handle
8. Dew shield is nice and tight and does not slip
9. Cover for lens is tight and will need a loop glued to it like my ES102 to make it easier
10. paint finish is good
Overall - first impressions are good - looks very well made and a quality instrument - def can recommend that 3.7" focuser though - v nice
I'll post more as I commission