I have been itching to put this new-to-me 8" Mak Cass to work on our solar system.
It is carbon fibre, and has passive cooling vents in the OTA and on the rear cell and have also been doing experiments with cooldown.
I tried without reflectix a few nights ago, it cooled down in approx 1 hr. Noticeable flaring on stars until then.
I tried with one layer of reflectix last night, and it suppressed the thermals so it was usable sooner but slight atmospheric waviness lasted for longer. Not sure if that was just the seeing or thermals, could have been just the seeing as I didnt see any flaring off stars, but I wasnt exactly hunting for stars at first.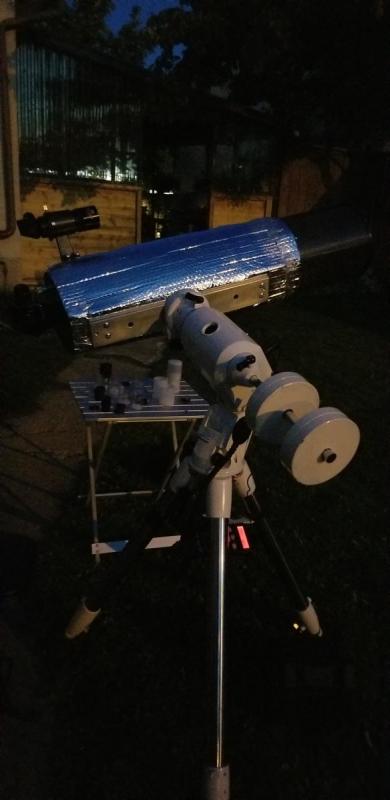 I set up in my backyard, viewing red/white zone according to light pollution, from the times of 20:30 to 22:30. I am at 53 deg north so everything was fairly low, just cresting my neighbors fence but obstructed by trees and his garage at many points of the night. I basically have only a small window to the direct south.
First up, I got brief views of the moon at first quarter phase, but it was still very much light out at this time. It was a bit early but I was trying to catch that excellent dusk seeing.
With my lowest power eyepiece the 32mm Brandon @ 125x mag, the moon was good but not as good as when it is pitch black and higher up. On the moon, I was studying the crater rim and raised highlands around of Aristoteles and Eudoxus, until it made its way past a tree, obstructing my view from it for the night as it began its descent in the sky.
Jupiter had tantalizing hints of EQ zone detail, more than I have ever seen, but this was fleeting and never returned for further scrutiny after revealing itself once or twice. Observed on the Jovian system was 3 bands (the North Equatorial and South Equatorial Belts and South Temperate Belt) with a hint of the North Temperate Belt flickered in and out of the seeing. Eventually the planet was completely engulfed in a thin layer of cloud. It was the lowest of the 3 targets observed last night.
Saturn was the treat. I was able to get a fairly stable view of our ringed planet with the 24mm brandon. My collimation was a bit off for the 16mm brandon, but back at 166x with the 24mm I could see subtle variations in banding in the northern hemisphere, which was darker than the southern hemisphere. Also, A ring and Cassini division stood out nicely. I love this image scale looking at Saturn.
So far last couple nights out haven't been the greatest conditions-wise, but I can already see this having a lot of potential when I get good seeing. Saturn was very good last night.
I have now double wrapped it with reflectix , and will continue my experiments with usability and cooldown.
Thanks for reading and clear skies!
Edited by Tyson M, 06 September 2019 - 04:09 PM.