Several weeks ago, I tested a Gary Russell 65mm Super Plossl with my NVD and was pretty impressed with the results, especially since it provides a .42x focal reduction without using a supplemental focal reducer. But I was searching for a better image, so I called Gary Russell again, to discuss his 50mm Super Plossl. Gary said that the 50mm has the flattest field of all his long focal length eyepieces. I asked if he could build a special version of it so that 2" threads could be added at the top, like his 65mm Plossl. He said he would do it for me, using the larger diameter Delrin stock for the bigger lens sets (like the 65mm eyepiece). $95 delivered, so I ordered it. I also ordered an Antares .7x reducer to see how it would perform with the 50mm eyepiece.
Both the custom eyepiece and the reducer arrived in the last 2 days. So today, I tested. I set up my 140mm refractor during the day and found the focused image to be excellent with a completely flat field and everything in focus, right to the edge of field. So tonight, using just the eyepiece attached to the Mod 3C Envis lens using a RAF adapter (Envis to M42/T2), the image was very good. This photo was taken from a non-tracking, manual, alt/az mount, ISO 24, 1/4s, no filter. Visually, I could see a bit of distortion at the very edge of field, but I really had to look for it.
Except at the very edge of field, the stars were in focus and remained round. I was surprised by how good the visual image appeared.
I added the Antares .7x reducer (the f:7 scope now working at f:2.6) to the nose of the diagonal, which means it was probably working outside of its spacing limitations, but the view wasn't too bad! I saw curvature and probably astigmatism in about the outer 20% of FoV. On axis was sharp. I also saw some vignetting with the addition of the reducer.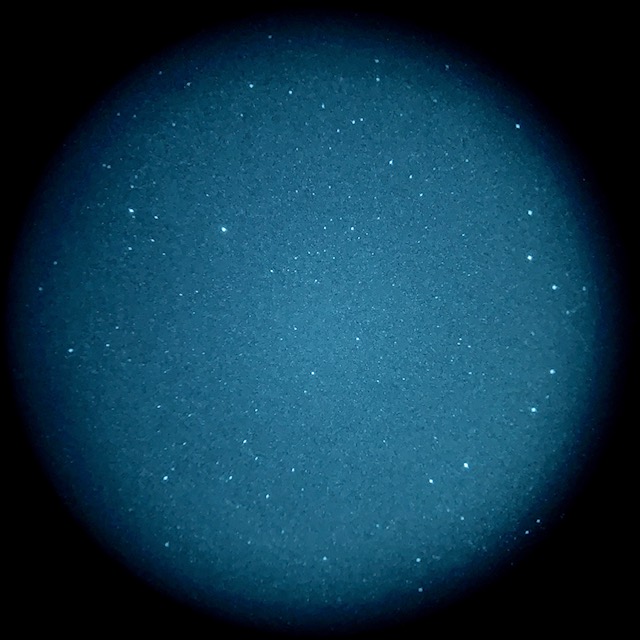 I have now tested a 40mm Plossl (1.25"), a TV 55mm Plossl, the 65mm Gary Russel Super Plossl, and now, the 50mm Super Plossl. Of these eyepieces, the 50mm Gary Russell performed best with my TEC 140, by a pretty substantial margin. I'll do a few more tests at the end of the week when I get home, but so far, I'm very pleased with the eyepiece. I need to experiment with spacing on the reducer to see if performance will improve. And, I'll need to try the eyepiece with my Orion .8x reducer.