Hello Astrofriends,
I do sun imaging for quite a while now, but I like to go a step further now. You can find some of my shots on my astrobin page:
https://www.astrobin.com/users/Luk/
Here is my usual setup:
- TS-optics APO Refractor 70mm f/6
- Daystar QUARK Chromosphere Filter
- ASI ZWO 174mm CMOS camera
software:
sharpcap 3.1
Autostakkert 3
Registax 6
Adobe Photoshop
first question is simple but im not sure how to do it:
question # 1
after staking my monochrome avi file in autostakkert and sharpening in registax, I usually use photoshop for final sharpening and RGB coloring.
the result is like the pictures on my astrobin page. Im very happy with them.
but how can I get a prominence picture where the sundisc is black? I use the QUARK daystar chromosphere. I also know how to setup the sharpcap software to make the prominences visible (increase gain value)...but i dont know how to process / coloring it in photoshop to get a black sundisc. is ist really just painted black with photoshops brush tool?? goal is to get a picture like this one here: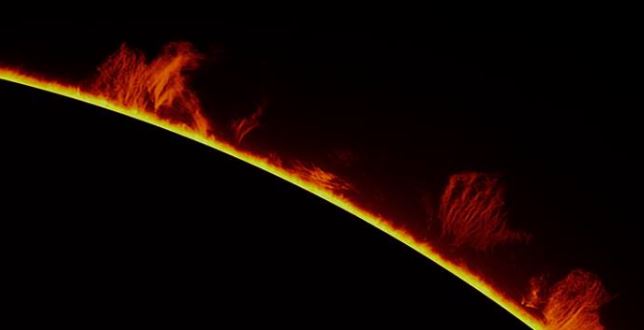 any ideas?
question #2:
how can I create an RGB animated videosequence of the suns prominence? I understand the basics:
capturing a long video sequence, to get a huge amount of frames. but how can I get a colorized animation at the end?
coloring each frame and put them together again to a movie sequence? This would take ages. Is there a good software for processing avi files?
goal would be to get a sequence like in this youtube video by "Chuck`s Astrophotography":
https://www.youtube....h?v=nkDbfR1MX_k
clear skies, thanks for your help and best regards from Switzerland
Luk