Gamma Cassiopeiae or Navi is a blue-white, sub-giant, eruptive variable star with a magnitude that changes between +1.6 and +3.0 erratically. Both Navi and the reflection-emission nebula IC 63 are located at a distance of roughly 550 light years from us. The Ghost of Cassiopeia (IC 63) and its neighbor IC 59 are rich in hydrogen and glow red due to the intense ultraviolet radiation from Gamma Cass. The blue signal from the nebula is indicative of presence of cold interstellar dust, which reflects the strong light from Navi.
This image is a first light with the ZWO ASI294MC Pro for me. I have only used mono cameras so far and was curious to try an OSC camera. An opportunity arose to trade my KAF8300 camera and decided to give it a shot. The camera has impressive dynamic range and was able to tame Gamma Cass with no ugly sensor pattern and very little in terms of reflections. After sorting out incorrect dark masters, the data calibrated easily and was extremely clean. Only minimal noise reduction was applied, which surprised me given the relatively short integration time.
Processing notes:
- Linear processing in PI: Data calibration and integration, Bayer drizzle integration, MLT denoise with internal mask, RepairedHSV separation, stretch with ArcSinhStretch followed by MaskedStretch
- Starnet++ to remove stars, minimal touch-up of starless image in Photoshop, create difference image (stars)
- Assemble starless and star image in Photoshop CC and adjust contrast/saturation for the the background nebula and Navi separately from the stars.
Takahashi FSQ106EDX4
ZWO ASI294MC Pro (Temperature: -15C, Gain: 120, Offset: Default)
Skywatcher EQ6R Pro
IDAS LPS-P2 filter
566 60-second subs kept for 9.4 hours of total integration time.
Comments and criticism are welcome.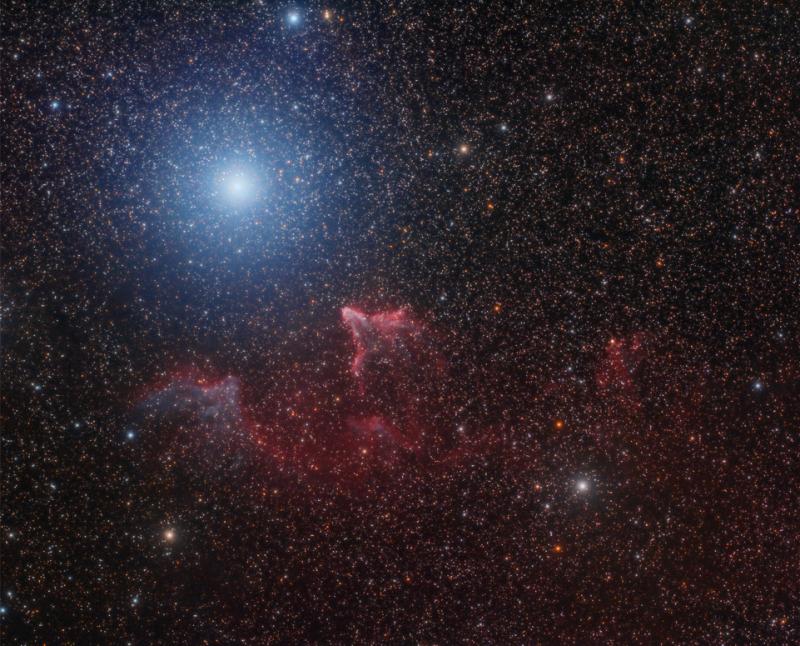 Edited by lucam, 11 September 2019 - 09:49 AM.