After several weeks' hiatus, I set up an EAA rig Monday night. Working against me, as always, are my Bortle 6/7 skies, poor transparency, and a driveway plagued by streetlights and porchlights. Throw in a bright moon and you have a recipe for staying inside.
Instead, I set up what I think might be my "goldilocks" configuration going forward for EAA:
OTA: 6" f/5 (Omni XLT 150)
Camera: ASI294MC Pro, cooled to -5C for this session (~50% TEC load)
Mount and target acquisition: Atlas, EQMOD, CdC, and AstroTortilla
Capture: SharpCap Pro, with real time darks, flats applied (gain = 350 for all images)
Image scale: 1.27 "/px
This OTA seems ideal to me. It has the right image scale, tolerable coma across most of the sensor, light weight, and it cost me $100 as a CL find. At f/5 it is fast enough, but also collimates easily. What's to not like?
So Monday night I decided to target some objects that might show well given the poor sky conditions. For me, these are normally visual targets, but I thought it might be fun to see them on the screen. I needed a trial run with the OTA/camera combo anyway.
All images were "saved with adjustments" from SC, then downsampled using PS from png to jpg for posting here. No post-processing.
Caroline's Rose (NGC 7789 in Cassiopeia) is elusive from my driveway, just visible in a 10" Dob. So that was my first target: 13 frames at 15s = 195s. (Anyone else notice the dog's face?)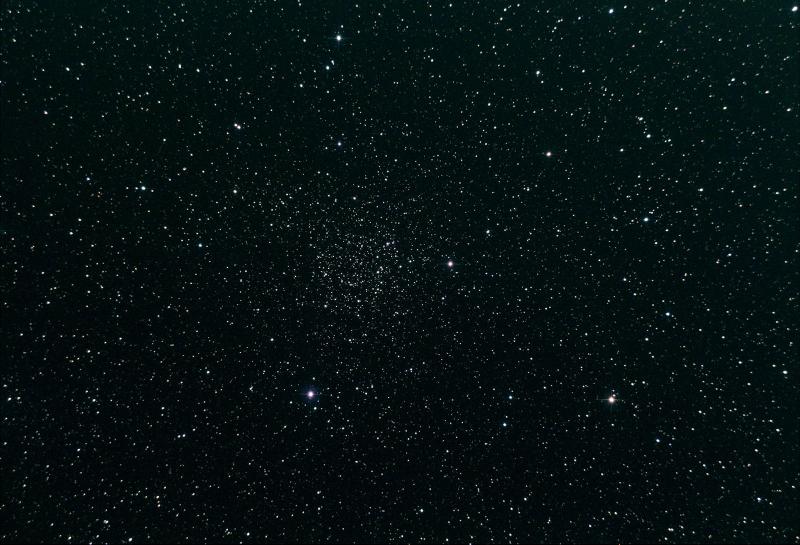 The Coathanger ( Brocchi's Cluster, Cr399 in Sagitta) is a nice visual target in my 102ED refractor, but looked nice in the camera as well: 15 frames at 8s = 180s.
To be continued...