A somewhat serendipitous capture. I was hoping to capture one more image of Jupiter (as I will need to take a break from imaging until mid-October at least) but strong gusty winds were creating a challenge and clearly compromising the data.
So I decided to replace the camera with my diagonal and eyepiece and simply enjoy observing the Moon. At 64% illumination, the views along Montes Apenninus (with deep shadows being thrown into the Mare Imbrium basin) were so stunning I just couldn't help myself ... back in went the camera!
Imaging conditions hadn't changed of course, so it was potentially an exercise in futility ... but I dropped the exposure down to 5.5ms @ 50% gain and hoped for the best. Only the top 15% of frames were worth stacking.
The final image here needed heavy cropping to exclude extensive edge artefacts, a combined result of the severe image shake/movement during capture and the stacking process. It has also been scaled down 42% ... not only to meet the 500kb max fiel size, but also to help hide the inevitable blurring.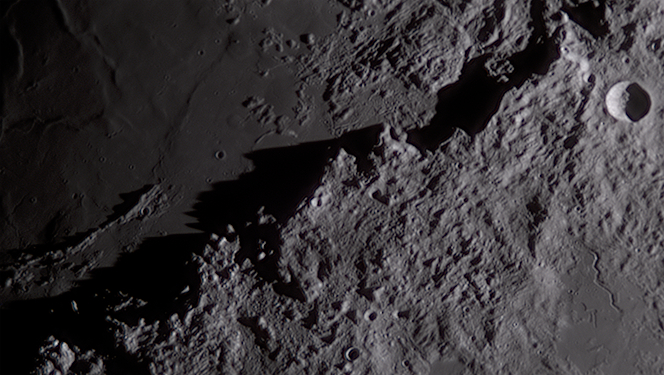 Mons Huygens (the Moon's tallest mountain, peaking at around 5,500m) can be seen slightly to the right of centre, with the crater Conon and Mons Bradley visible in the top right corner.
The overall experience of observing this region and then producing this image solidifies in my mind that high resolution lunar imaging is perhaps the most challenging forms of solar system imaging, in that it is hard to imagine ever producing an image that truly captures the wondrous view down the eyepiece. And it drives home just how amazing the combination of human eye and brain are, capable of high dynamic range image processing in real time!
Definitely an area I would like to return to and perhaps produce a high resolution panorama of the entire mountain chain at this Moon phase.
Thanks for looking!
Edited by DMach, 13 September 2019 - 10:27 PM.