I'm seeing odd multi-colored effects in my stars and can't quite figure out what's going on. Here's a picture of a particularly bad region in M29, both an individual sub and a lightly-processed stack of about 1000 taken over about a week, same stars, zoomed quite a ways in. For both images I did background neutralization and an ArcsinhStretch.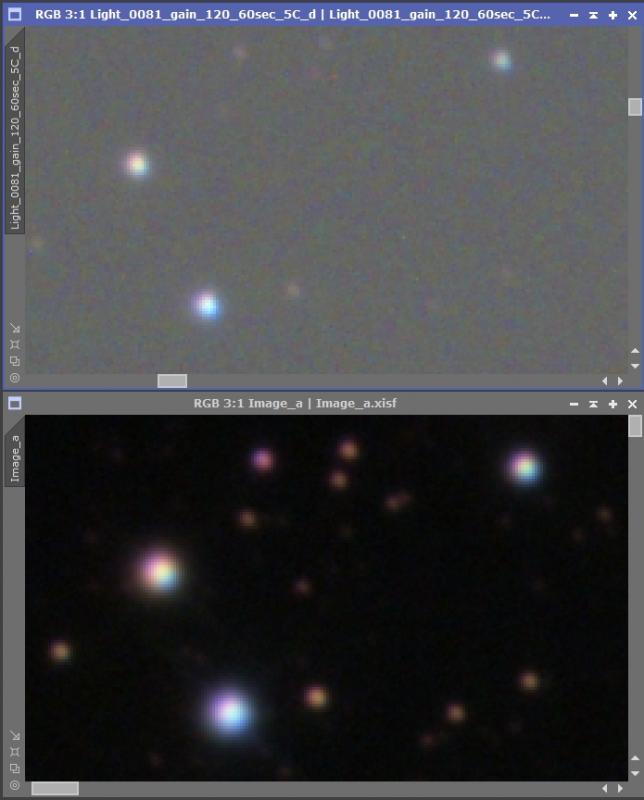 Here are some (I think) relevant facts:
You can see that the color distortions are visible even in one sub.
I'm using a new camera, a ZWO ASI294MC one-shot-color, with offset = 5 and gain = 120. This is the third image from this camera I've examined. The problem was also visible in the other two. I don't see it in the DSLR images I made with the same system before this camera, but that was a year ago too.
The color distortions vary at different places in the image. Sometimes they're not even evident. In this sample it looks like blue is coming in at about 4:00 and magenta about 10:00 on all three big stars, but that isn't generally the case across the image.
The humidity during the image acquisition was pretty high, upwards of 90%.
The noise background in the individual sub is fairly even, and doesn't indicate blotches of color corresponding to the color distortions in the stars. You can see this better if you zoom in even further.
My scope is an 8" Ritchey–Chrétien, and I'm using an Astro Physics CCDT67 compressor at about 0.75 compression. Dew heaters are keeping the primary & secondary mirrors clear (although I must admit I'm guessing about the secondary). That's about it for the optical chain.
My mirrors are not spotless, but they don't look filmy to the naked eye.
All subs were shot at altitude >=50 degrees, so I don't think atmospheric diffraction is happening.
Any ideas?
Edited by TinySpeck, 14 September 2019 - 05:54 PM.