Greetings!
I would appreciate your inputs on which of the following applications of SCNR have yielded the most pleasing results of NGC 7380 (the Wizard Nebula in Cepheus) in SHO. I varied the protection method and amount of SCNR applied to the green. In the following mosaic I've annotated these values with "Average Neutral" on the top row, "Minimum Neutral" on the bottom row. The amounts vary from 1.00 on the left to 0.40 on the right in steps of 0.20. I find the images and varying colors difficult to see on this post, so I encourage those interested to please take a look at the higher resolution AstroBin mosaic image.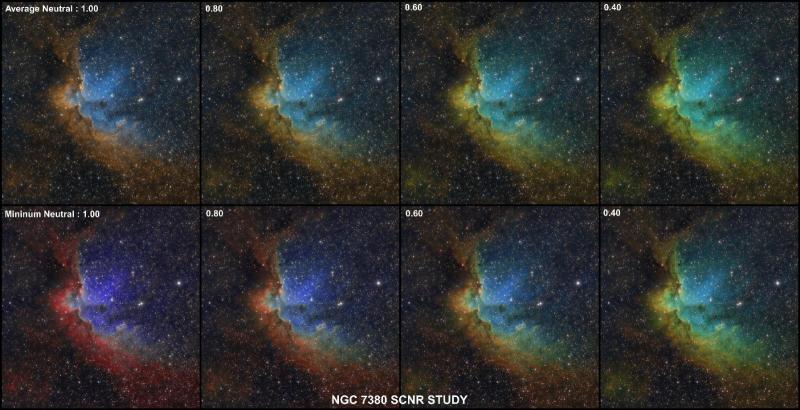 I'm having trouble deciding which is the more interesting or palatable palette. It is my tendency to retain some green color cast in my SHO images, however this practice tends to be one that is met with some opposition by many as not being so pleasing. I tend to agree that with the spread I show here, the ones on the right-most side retain too much green even to my taste. To my eye, I'm drawn more towards the redder cast of "Minimum Neutral", particularly around an amount of 0.6, although maybe 0.7 may be better still. This retains a slight but not overwhelming green (in my opinion), the blue is a more contrasting shade, and the red adds interest as well instead of the browner/yellower tint along the top row. However, I'm interested in hearing others' choices.
I realize I am asking for what is for the most part a subjective evaluation, but I'd still like to see the responses, particularly if enough people chime in with comments to form some kind of unscientific consensus, to hear if any of my choices are pleasing or at least land in some kind of norm or acceptable SHO color scheme as to not induce convulsive reactions.
Thank you for your inputs, and I look forward to seeing what choices you make.
Best Regards,
Ben