Got my Apertura 6inch F4 Imaging Newtonian today. It's really good!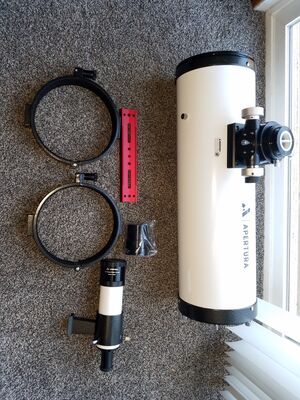 It comes with quite a lot of stuff for $299 shipped. Although one thing I found interesting was no manual. Sure, I don't really need one, but someone new to telescopes would.
The fit and finish is pretty good. Not quite premium telescope quality, but I'd say it's the same as an Orion scope quality.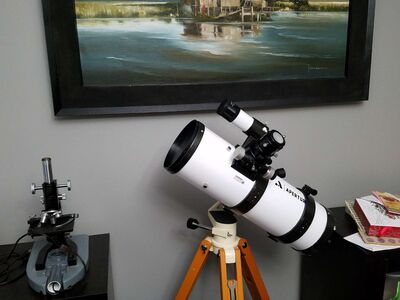 The mirror looks very good. Center spotted and collimation turned out to be very easy (because luckily the secondary mirror was centered under the focuser). I had to adjust the secondary tilt and the primary mirror. I want to say thank you to the late Howie Glatter for his tools. I used my Glatter lazer (for secondary tilt) and Tublug barlowed lazer for primary adjustment. Three lock screws and three adjusters. Very easy to collimate with those tools. I was almost regretting getting another newt because I hate secondary collimation (especially if the secondary is way off). But no issues here luckily.
The focuser works quite well. I did have to use the included extension tube to reach focus in eyepeices and the mod 3. While I could then get focus with the GSO .5, it didn't appear to really work with this setup. Things were just a bit weird...such as, on axis, the nebula didn't look bright, but off axis it was better. And something up top was darker. No idea what was going on there. But the .7 Antares worked great. It was a great image with and without the reducer.
Star tests showed very good on both sides of focus. So it's certainly a nice scope. Jupiter and Saturn looked pretty decent.
So, coma wasn't such an issue on axis...but if you wanted to get both the Lagoon and the Trifid in the same view (which is possible), then coma was for sure an issue. I'll have to consider what to do for the coma. Let me know if any of you have done any solutions. I don't really want to pay too much at this point. And I don't think I need it right now.
Riding on my old original Vixen Porta mount was quite good actually. One of the reasons I got the 6 inch vice a larger one. I couldn't get all the way to zenith, but pretty close. I may try my FTX at some point also. And of course I can use my GPD2 which I've modified for GOTO. Especially if I want to do tracking and GOTO. However, I'm more of an alt/az kind of guy. Which is pretty easy to do with NV.
So personally I'm very impressed by the scope. I have flocking paper on the way. This will be much easier to flock compared to my 10 inch dob. While planetary and lunar observing isn't going to be the primary focus (see what I did there), I still like to take care of stray light as much as possible. And heck...where I am using this neighbors have a ton of lights on all the time.
Looks like this is the same scope as the Astrotech and probably a few others. I would have got the Astrotech but it was out of stock.