G'day all,
Dust storm today…second one this week. The clouds that rolled in with the cold front blowing through were tinged a deep orange and cast a post-apocalyptic hue across the outback for most of the day. Visibility was poor, and the air was…well…chewy…gritty. So in spite of the waning moon, there's no AP for me this weekend.
Fortunately, I was inspired to go back to some of my oldest usable data. I shot the Eta Carina Nebula back in 2017 through my kit Canon 55-250, but I'd written it off since I bought my Canon 200mm f/2.8L II. But I processed it way before last year's lessons from Wirtanen, and my processing methods have progressed considerably even since then. So lacking anything to shoot, I reprocessed the old data. It didn't disappoint: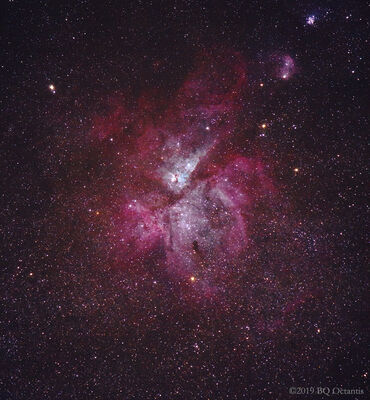 Carina Nebula 2017-05-24, 51˚ elevation
Canon 55-250 f/4.5-5.6 @ 250mm f/5.6
Canon T3i (stock), Generic EQ2 mount
11×30sec@ISO3200, 100×bias, 100×darks
Aligned & stacked in Lynkeos v3.1
Processed in Photoshop CS5 w/
Annie's Astro Actions 7.0 & Astronomy Tools v1.6
Scaled to 29%, cropped to 927×1002
Tropic of Capricorn, Northern Territory, Australia
Hope your weather is…more breathable…
BQ
Edited by BQ Octantis, 20 September 2019 - 05:44 AM.