This ASI1600 and Tak 106 combo is awesome. I recently installed this on top of my remotely housed Planewave CDK14/SBIG STX/MEII combo. I was willing to trade resolution for FOV, but I feel I'm getting much more depth too.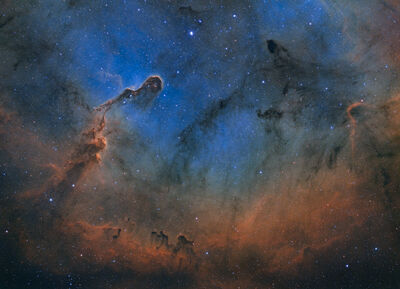 https://www.astrobin.../full/2u0nst/C/
The main scope image scale is .73", and for the Sierra Remote location, that is under-sampled. The ZWO/TAK combo is about 1.47", but the image feels sharper due to the small star size you get relative to the larger object. And shooting 23 hours with the F5 system and CMOS really increased the depth captured over the F7 and CCD. So I guess I'm saying I feel like I got a better picture out of 1/5th the cost of equipment!
The combination here is Ha for Luminance, SII+33%Ha for Red, 25%SII+50%Ha+25%OIII for Green, and OIII for Blue. Processed in CCDStack and PhotoShop.
Due to breaking the USB on my guider camera, this was guided with the Planewave and SBIG 16803. 3x3 binned for an effective guider pixel size of 27 microns while shooting with a 3.8 micron pixel camera! At 2 second exposures, my guide stars were coming in around 30,000 ADUs. Since I'm shooting remotely, I had to guide on the brightest star in a half degree FOV. But hey, it worked... It didn't occur to me till I was finished to use a filter other than the Luminance filter for guiding :O
Edited by Morefield, 22 September 2019 - 12:07 AM.