Dates x3: 19th Sept 2200-0000, 20th Sept 2100-2330 & 21st Sept 2100-2300.
Scope: 20" f3.6 Lukehurst Dob with Paracorr (fl = 2089mm & f4.1).
Night Vision: PVS-14 with Photonis 4g INTENS.
Eyepieces: Plossl 55mm (f2 x38).
Filters: Chroma 5nm Ha filter.
Moon: Waxing & some minor impacts.
Sharpless object search - state of play.
Over the last 16 months I have been seeking out the 313 Sharpless (sh2-) objects and have posted several reports (on Cloudynights) of my progress along the way…
I have now observed 302 of these 313 objects.
I should have the possibility to add sh2-172 during the next couple of months but the remaining outstanding targets will not be around again until May 2020 (and may be too low for me to get as I did try for them in 2019 but I have to hope that I get a run of clear skies on the right nights and I may bag some more, you never know?).
It seems that I have to decide how I want to spend my clear nights time over the next few months, I could:
Revisit old favourites (I have a list of 115 favourite Sharpless objects that I plan to publish when we have a run of bad weather and I have some time) or
Seek out new uncatalogued nebula that are not in the Sharpless catalog but are visible from my location with my equipment (and are at least comparable visually to the Sharpless objects that I have observed).
Creating a new observing catalog of nebula with no current designation.
I have decided to start a new catalog (as there are so many nebula within reach of our scopes when coupled with Night Vision technology)!
I will be scanning the Milky Way (with Night Vision and a 5nm Chroma Ha filter) using my push-to 20" Dobsonian which has encoders connected to a Nexus wireless multifunctional telescope adapter. I will use Sky Safari 5 Pro to check if the objects I find are designated any current name. I will avoid the Sharpless (sh2-) objects as they are already cataloged.
On locating a nebula of interest, I will use Sky Safari to find the name of a STAR at that location and use this as the "location" information. I will write a description of my observation for that object.
I will generate a reference for these objects, beginning from Ag1-1 thru Ag1-2, Ag1-3 etc. These names will be temporary but will allow anyone to communicate their own observations or issues with the objects to me…
In time, I will find and add the name of the nearest SAO star (with the aim of getting a GOTO location) for each object as not everyone uses Sky Safari.
After 12 months (and a full rotation of the night sky), I will re-order the identified objects based on their sky co-ordinates and generate an updated set of names Ag2-1, Ag2-2, Ag2-3 etc (at which point the Ag1 names will become obsolete).
Looks like I already started!
Over the last three nights I have had chance to make a start and have found and marked 44 areas of interest which have been added as the first entries in the Ag1- catalog.
Here are the details of the star locations and my observation notes taken.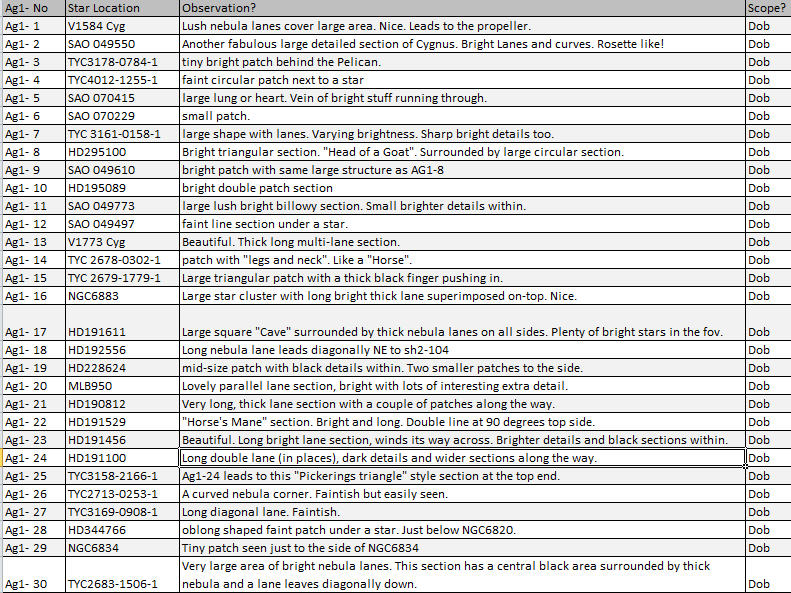 Here is a screenshot of Sky Safari showing the locations on a sky chart.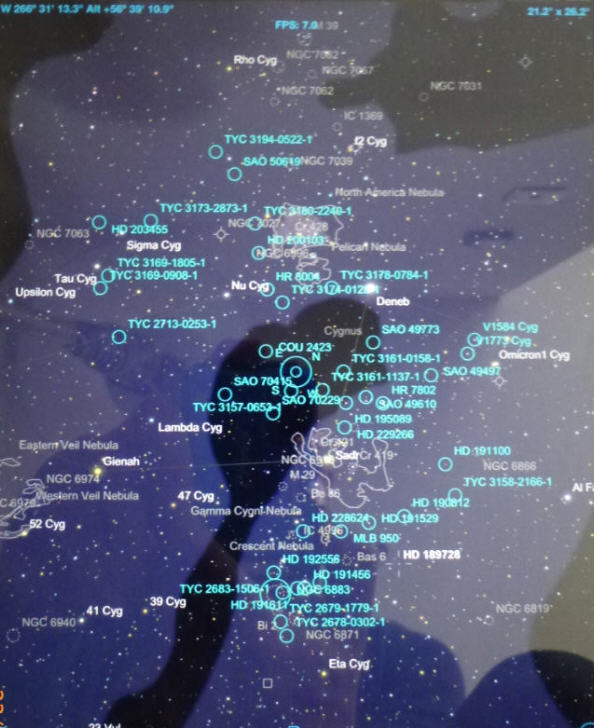 Next Steps…
I will obviously be continuing to scan for additional objects in the sky above me (and add them to the Ag1- catalog).
I will also be revisiting the documented locations (on a long clear night) to confirm my observations. It should be a simple task to "push-to" them and verify my descriptions.
Once I have identified (and added) the nearby SAO references for the Ag1- objects, I will move to checking them out with the GOTO function on the Skywatcher AZGTi mount (via connected SynScan handset) and my Borg 107FL.
Wish me luck!
Alan
Edited by alanjgreen, 22 September 2019 - 04:44 PM.