Here's how I'm imaging right now:
EQ8 (Orion HDX110)
AT65 scope (420mm)
ASI174 guide cam on Celestron OAG
T5i imaging camera
I switch off between the AT65 and the 8" Edge.
My stars look good - but this is @ 420mm FL.
I want to improve my guiding.
Here's a guide log from last night with the above equipment set up
:

PHD2_GuideLog_2019-09-21_204653.txt 187.51KB 7 downloads
Here are a few things that I THINK I know from running calibrations and running the guiding assistant:
I do have some DEC backlash - when I run the GA in some quadrants - it is negligible - other quadrants - not so good - in some places - pretty bad.
Here is the result from the last time I ran the guiding assistant: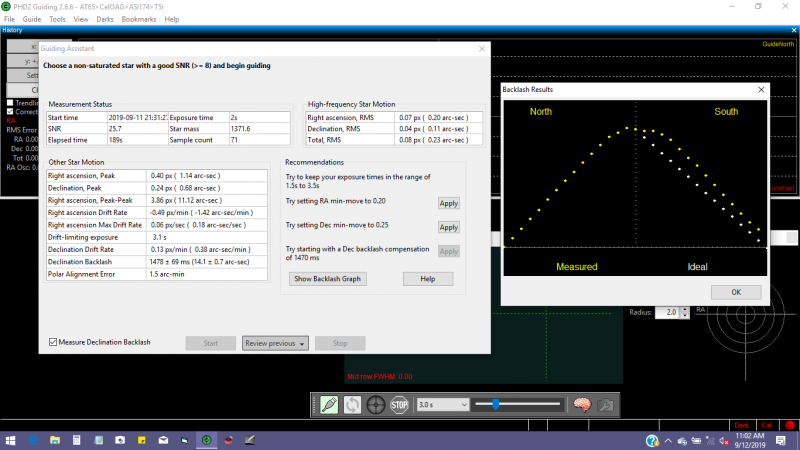 And here's my last calibration: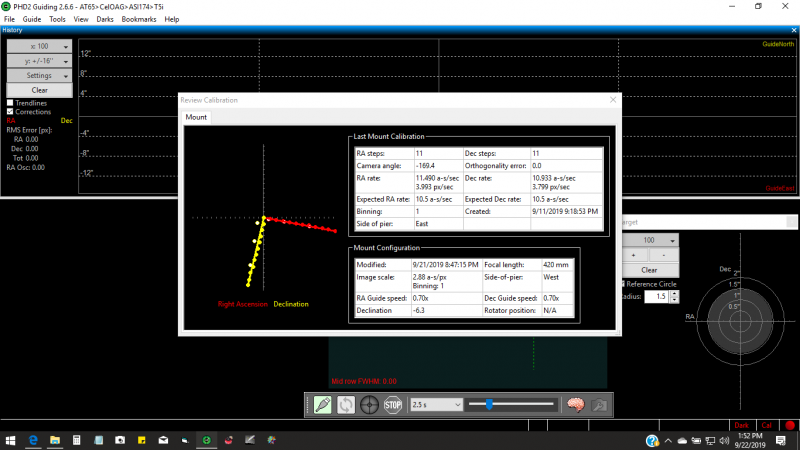 As I mentioned - sometimes the backlash test yields much better results (nice matching lines) - sometimes worse results than the one posted above.
I have not yet run PEC on the mount - but plan to do so soon using the EQMOD procedure.
My question is - what would you do next?
Go into the mount and make adjustments to the DEC axis to reduce the backlash? I understand how to do it - but would rather not make mechanical adjustments to the DEC axis unless I just have to.
Run PEC on the mount and see if that helps?
I usually try to perfectly balance. (The EQ8s are not easy - but if you work at it - you can get it balanced)
Should I try a little east heavy and a little camera heavy?
Or just try to improve the guiding by making changes to the PHD2 settings?
I plan to go back to imaging with my 8" Edge HD and I believe I am going to need to get my guiding to perform better in order to get good images at that FL. When I have the 8" Edge on the mount - my guiding generally has been about the same - not much better or much worse. Sometimes as low as .6 or .7" but often 1.2" and higher. Seems to waffle around a lot.
I am wondering if you all think running PEC on the mount and trying to adjust the DEC backlash might improve overall performance.
Can't hurt?
Thanks for any advice or recommendations you might offer...
Paul