I don't have an observatory so I have been looking for a spectroscopy rig that I can set up very quickly to acquire data when the opportunity presents itself. I have gone through a couple iterations of this and I have learned a few lessons. To compensate for smaller aperture, I pick brighter targets(mag <10), at lower resolution(Star Analyzer 100) and acquire for more time. To compensate for poor tracking (in exchange for ease of polar alignment and no guiding; iOptron Skyguider Pro camera mount) I use a light, fast, short focal length refractor (Borg 55 FL 250 mm f/4.5), I take short acquisitions (<30 s with high gain low noise ASI 290MM-cool camera) and stack many images ~100 (with Nebulosity). Finally, and not least importantly, to find and center my targets, I use a 35 mm f1.6 c-mount lens with a QHY174 camera. The tripod is a Manfrotto 190go! and the geared ball head (by Manfrotto) lets me point the telescope to the target. All images are acquired with SharpCap. They are stacked later with Nebulosity and the spectra are processed with RSpec.
The whole thing looks pretty ridiculous, but I think it should be judged by the quality and quantity of spectra I can get from it.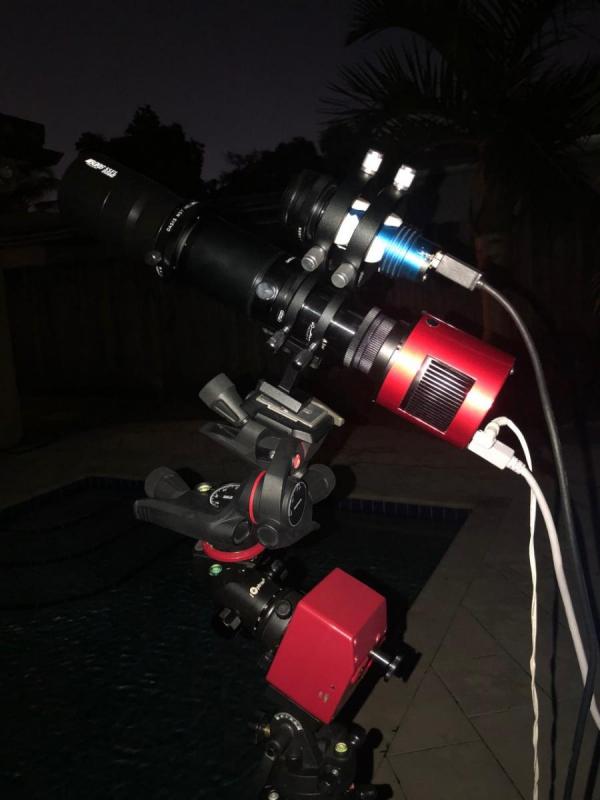 Basically, I can roughly balance the rig in RA and that helps the tracking. Some points of sky are better than others, but with this system the whole sky is available (one half when the telescope points north and the other half when it points south).
It takes me less than a minute to polar align. This means I can move my scope in my backyard which is highly obstructed.
I acquire images with flats and darks calibrated in real time with Sharpcap. I usually re-use the same instrument response file in RSpec.
The helical focuser on the Borg is very nice and I do spend some time optimizing the focus, which of course is slightly impossible with the Star Analyzer because the blue end and the red end of the spectrum are not in the same plane. I usually concentrate on the blue end and lose a little focus on the red end. Here is an example of an A type star that gave showed many Balmer lines into the UV