Clouds didn't part until after midnight last night so I only got one target, but it was a good one, the planetary nebula IC 418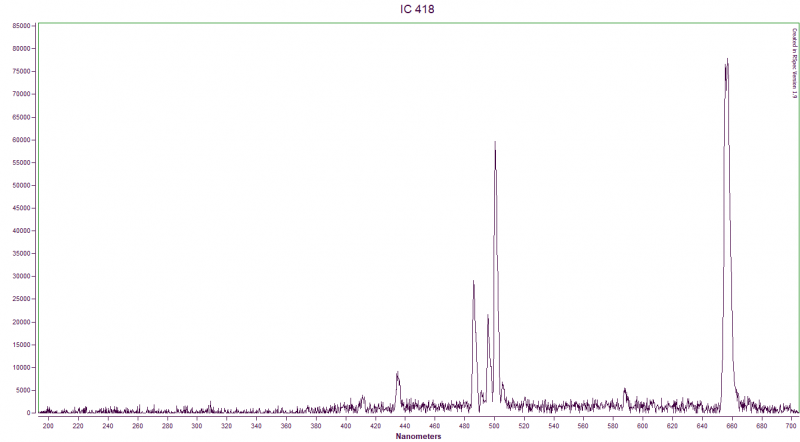 The intensity of the [NII] line at 658.4 nm is pretty big in this planetary nebula. I can't fully resolve this line from Hα at 656.3 nm, but the hump on the right side of the Hα peak probably is the [N II] line.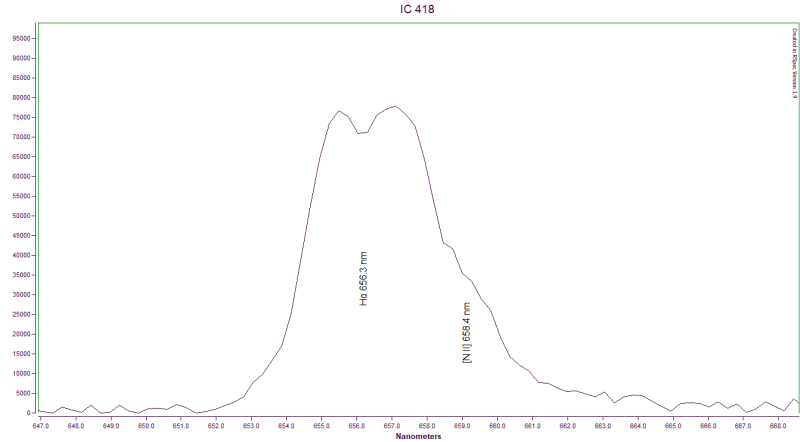 The double peaked Hα is due to the structure of the nebula. If you look at images of the nebula, the limbs are much brighter than the center and the two peaks correspond to the two limbs.
IC 418
I was able to resolve quite a few [O III] lines.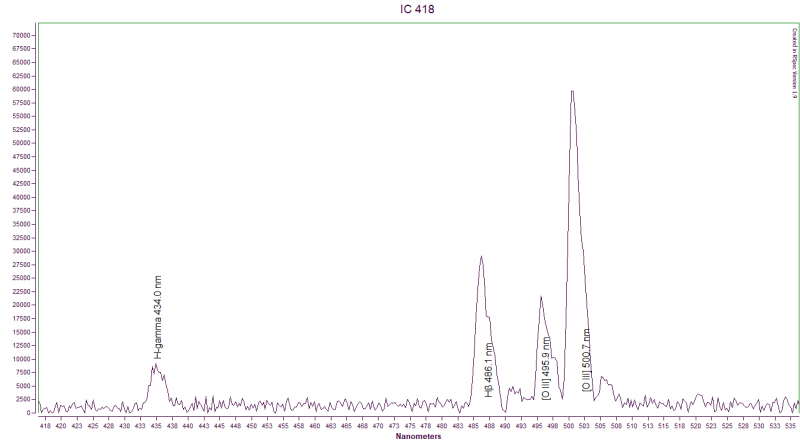 First, I calculated the ration of [O III] 500.7 nm / [O III] 495.6 nm = 2.84. Richard Walker says the ratio should be ~ 3, but upon further research
nebular lines
I found the calculated value should be 2.88 and that values of 2.8 are well within observations.
Next to calculate the excitation class of this low excitation planetary nebula I used the formula ([O III] 500.7 nm + [O III] 495.6 nm) / Hß 486.1 nm = 2.7 which corresponds to the E1 class, consistent with Walker's value. He says this suggests a temperature for the central star of 35,000K.
To calculate the electron temperatures of the nebula, one needs to observe [OIII] at 436.3 nm. I mistook the Balmer line at 434.0 nm for this line. Obviously, the [O III] line at 436.3 nm is completely beyond the capabilities of this system. I found one reference that suggested an electron temperature of ~9,360 K, this would correspond to a ratio of ([O III] 500.7 nm + [O III] 495.6 nm) / [O III] 436.3 nm ~270. That [OIII] at 436.3 nm is pretty small.
Always lots to learn.
Edited by Organic Astrochemist, 23 November 2019 - 02:19 PM.