Hi
The chart below shows how measured FWHM decreased with shorter lum subs on a night of consistent average seeing and no excessive wind.
To counteract the effects of any seeing drift, a sequence of subs of various lengths (1x5 min sub and multiple subs of shorter lengths) was repeated 4 times. Focusing was redone regularly in SGpro, but not synchronised with the sub length sequence (ie, there was no focus bias in favour of any sub length). The process did not involve any sub selection at all - all subs were used and the FWHM from the PI SubFrameSelector script was averaged over all of the subs of any given length (from all 4 sequences). Fairly aggressive phd guiding was running at 1 second update rate on an average EQ8.
Got the same result on a couple of nights - the shorter the sub, the sharper the result (I also hand checked a few subs to make sure that star saturation was not blowing out the FWHM on longer subs - it wasn't).
I guess that this is due to slow seeing or tracking wander, but most of the exposures are well outside of the normal "lucky imaging" region and in any case, there is no image selection to prune off subs with poor seeing. I was surprised that the effect was so significant and also fairly consistent over the full range of sub lengths from 1 second to five minutes. Has anyone else ever seen anything similar - prior threads or experience? Does anyone have any opinions on whether this effect is real and/or what the mechanism might be?
Thanks for looking, Cheers, Ray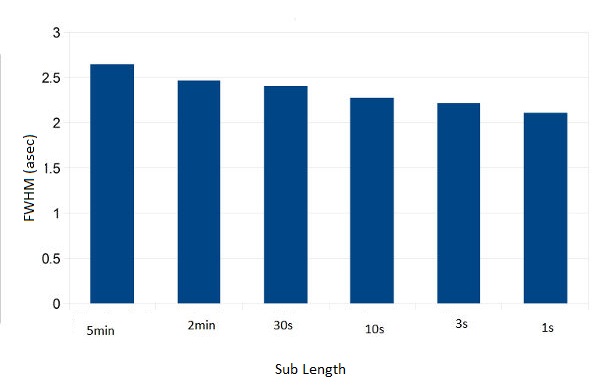 Edited by Shiraz, 23 September 2019 - 07:48 AM.