I will be buying a short focal length refractor.
Why now?
Because it's been so much fun imaging these two wide fields the last two nights with a Canon 70-200 lens and there's two mounts in the observatory. Maybe I can actually walk and chew gum at the same time.
The Stellarvue SVX080T-3FT (with 3" feathertouch focuser) has caught my eye. Only hurdle is to price out the cost of side by side mounting with existing refractor.
Tak shmak, I always wanted to say that.
I even like my screw up images. Here's the veil nebula, in the upper left, it should be centered. It's in the star rich backbone of our Milky Way galaxy.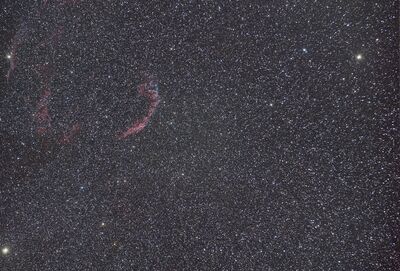 The North American(NGC7000) and Pelican Nebulas. They are located in the Milky Way (backbone) hence the rich star field.