The difficulty I (and others) had with the C8 RASA was the F2 systems extreme sensitivity to tilt. Spacers that had worked fine with other scopes were a problem.
I decided to brute force the problem, to see if the scope was an issue. Got a PreciseParts spacer that replaced almost everything with a hunk of metal that had only one threaded connection. It's shaped like the Celestron t-thread adaptor on the bottom, goes out the correct distance, and accepts the 183C camera (without the cameras threaded ring). I retained the Celestron retaining ring for the scope end, that shouldn't introduce tilt, and makes camera rotation easy.
Below are the results. Click on the picture for readability. The FWHM is in pixels, multiply by 1.2 to get arc sec. Comments on field flatness or tilt welcomed. Those are beyond good for me, I don't think my SV100Q is as flat.
Here's the resulting image. The night was really uneven, with FWHMs ranging from that 2.5 ish to over 4. Guiding sometimes went over 1.0. I dropped everything with a FWHM over 4, that cut out 1/3 of my 30 second frames, leaving me with 245. Not great, but it shows I'm on the way to achieving what I wanted to. Decent images in Bortle 7 without 10 hours or more total imaging time. This is 2 hours, with a one shot color camera. There'll be better cameras down the road.
I used Celestron's IDAS style LP filter. I have signal to burn, so that's not an issue, but I still don't like the star color much. Tradeoffs.
Don't tell Jerry. <grin>
https://www.astrobin.com/ky6juu/
For those who don't know, my age makes imaging in dark skies impractical, except possibly with my camera tracker.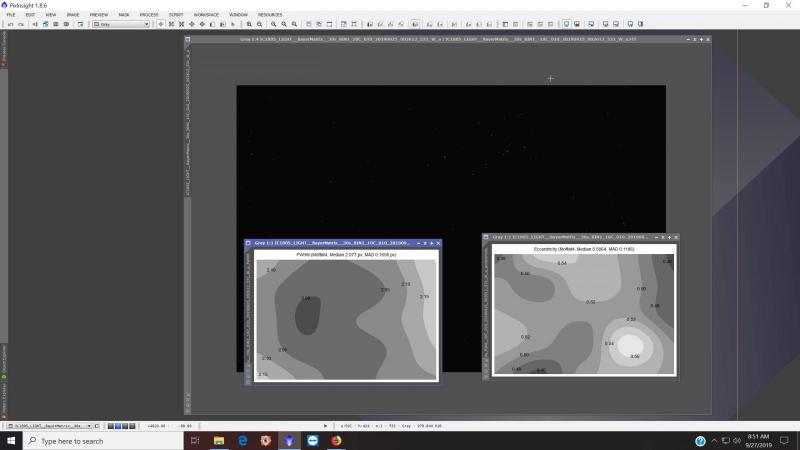 Edited by bobzeq25, 27 September 2019 - 10:14 AM.