When I owned the 12T4, which was more than a decade ago, I also had a Non-Edge/ACF 8" SCT. I remember the same for that scope with the 12T4 & 13 Hyperion. Their off-axis was only very slightly distorted when you looked for it (with the 12T4 being very slightly tighter), so below the level to be visually distracting.
Yeah, this is the same with reflectors and refractors as well. At some point the field just gets narrow enough that the aberrated blur diameter gets small enough that it is not distracting.
I was out with my new to me AT 106LE the other night and the 106LE only has a focal lenght of 690mm, so I was expecting that the edge of field would be slightly out of focus, and it was no surprise when that turned out to be the case. With the 12mm Nagler, though, the field appeared pretty sharp to the edge.
So at some point the part of the field at the edge becomes close enough to the best focus of the eyepiece that it stops being distracting.
Now, coma was still there in the C14 even in the 12mm, but the coma was very low and it was not a blur because close to the axis, the scope was in much better focus. In the C14, off-axis brighter stars were not a spurious disk surrounded by an even ring. Even half way to the edge of the field, this is what I would see on a steady on brighter double stars about half way to the edge of the field of 12mm Nagler: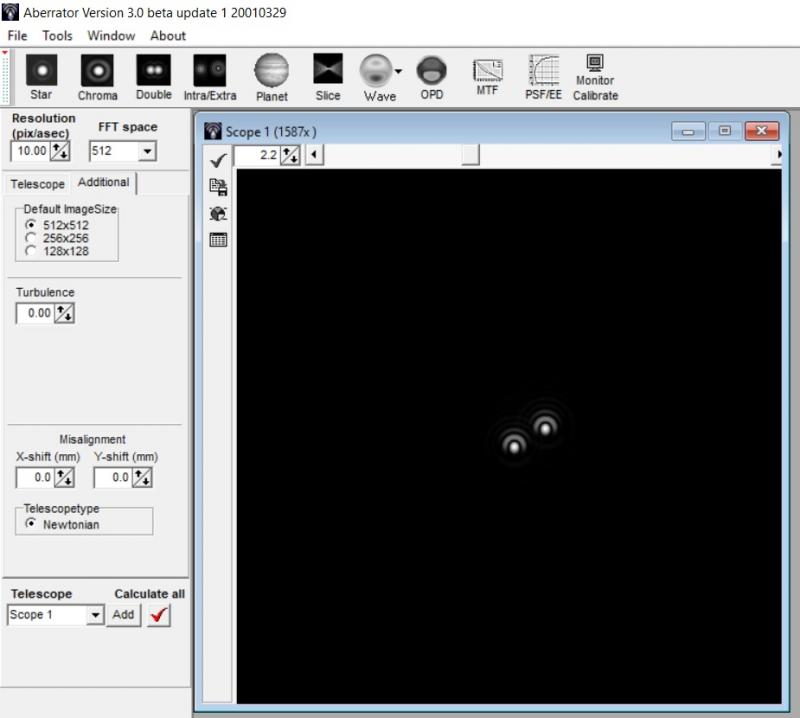 Now it would take a night of excellent seeing in the C14 to see this, but I have seen it many many many times. At higher powers, even 10mm off axis, you can easily see the classic comatic blur start to develop but this close to the optical axis, it is very close to perfect focus.

As it gets further off axis though, it gets more comatic, and it starts to swell, but it falls outside of the field of the 12mm before it gets bad enough to be bothersome, but even by the edge of the field, you can see the coma and a very tiny amount of defocus.

Edited by Eddgie, 12 October 2019 - 04:11 PM.

&nbsp