The OS upgrade went well but I discovered that SN7 wouldn't render the time properly in the GUI.
I figured uninstalling SN7 and then upgrading to SN8 would fix this.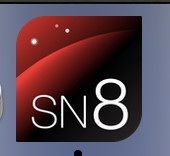 I figured wrong.
I would contact Simulation Corporation about this but their site will not allow me to sign up or sign in. Apparently it seems to
be convinced my browser cookies are not enabled enough. Clicking to enable achieves nothing.
Has anyone else had rendering problems with SN8 and Catalina?
Edited by Shorty Barlow, 10 October 2019 - 11:16 AM.