Got the 160 into the observatory today after its initial shakedown cruise at Okie Tex.
Set-up, balanced, polar aligned etc.
Moon nearly full, dreadful seeing..... session started at 9C, finished at 5C.....
Mixed results on some pairs in Cassiopeia as selected by my Mach 1 mount which gives 9 pairs of widely differing parameters...it uses ADS designations but I have used their real WDS codes here.... Data from Stella Doppie..... As usual I observed 'blind' with no foreknowledge of the mags or sep......
Eyepieces 12mm Delos (93x ) 6-3 Nagler Zoom (186x - 372x)
Hits:
Eta Cas. Never disappoints! B is a strange colour.... magenta/brown/red?
STF 3049. 4.99/7.24 3.1" -- Only briefly spotted B in the clear for about 2 seconds out of 2 minutes...seeing 2/10....
STT 508. 5.66/7.95 1.50" -- One fleeting glimpse of the secondary sitting on the first ring. Definitive sight but it took a lot of waiting....
H N 122. 5.66/10.57 35.9" -- threw all my power at it. Nothin'. Then one last look at 93x.... A wide pair with a big delta mag!! (Why AP chose this one is anybody's guess...)
BU 1101 AD. 4.68/10.00 19.1" another wide pair with big delta mag. Spotted this one right away with 93x.... yellow/blue?
Misses: no split or hint of one on these.. sometimes for a good reason (bolded)
STF 283. 8.38/9.03 1.8"
STT 12. 5.33/5.62 0.10" This is Lambda Cas a notoriously impossible pair. But, hey, AP put it in there!
BU 1028. 2.2/10.9 2.1" With a delta of 8 mags this one is also pretty much impossible...
BU 513. 4.65/6.74 0.50" Too close even on a perfect night.....
If there were better seeing I'd still be out there, despite the moon.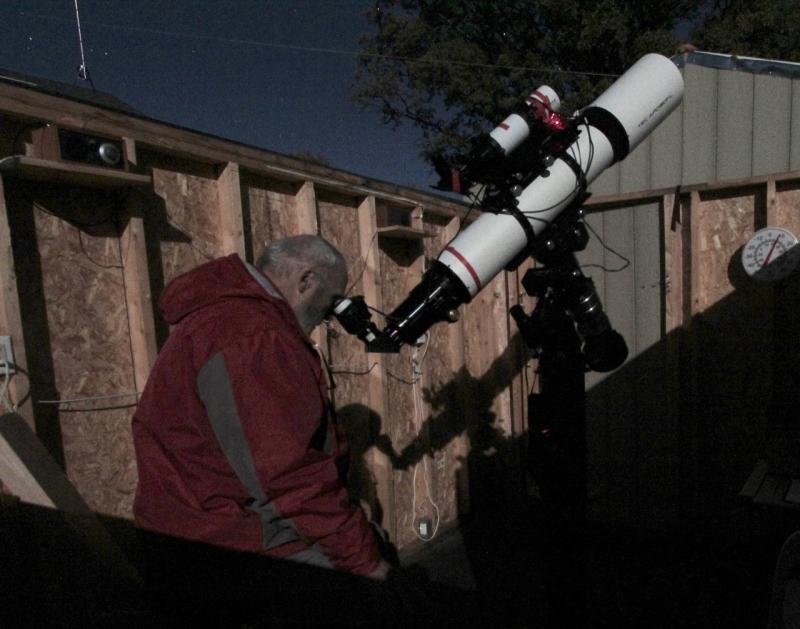 Dave