Tried out my C8 tonight using the Afocal with my TV40 plossl and 9mm Nagler
It worked pretty well with the Plossl. It was OK with the Nagler, but maybe a bit high power for the unit. But still was fine.
How do I know what focal ratio I was running at?
I looked at M13, Cresent nebula, and the Veil. And also panned around the North American area. I felt it did pretty well on M13, and the nebulas looked pretty good considering the full moon was out. I'm thinking from memory the 10 inch dob probably does better, but I would have to check that again.
One thing I really appreciate is my grab and go alt/az 6 inch F4. Setting up an EQ mount and the C8 isn't horrible, but it's way more work than my alt/az. And I personally like using alt/az much more. I'd also say for night vision, it seems to be fine in most cases.
Yes, I do live on the side of a fairly steep hill. Click on the picture to see it in full screen.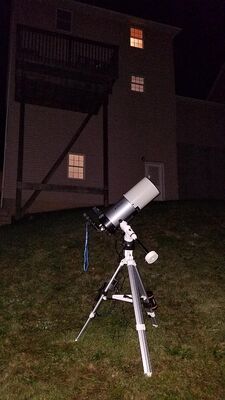 Side note: Is night vision observing affected by using the scope on a deck? Maybe because of the low powers it would be fine. Or the way it works it wouldn't be as affected. I used it once on the deck with the 6 inch F4 and it seems quite good.