Wow. That's really sums up my trip to Maui several weeks ago. For reference, I live in and observe from rural Alaska so I'm used to crisp, cold, clear, totally un-light-polluted skies. I also have a mountain range due south of me, so my targets are pretty much limited to about DEC 20°S at absolute most and really 10°S if I want to make out anything clearly. So this trip was going to be a potentially once in a lifetime (or at least for many years) opportunity for me to view some classic southern targets. I actually purchased a used 90mm Mak-Cass from CN just for this trip (my 8" dob wasn't exactly going to fit in carry on).
So with my expectations set reasonably low for 90mm of aperture, I searched around on CN for advice and found an old thread mentioning a member here who had loaned someone his 8" SCT. I messaged MauiKJ on a whim and we connected and he unbelievably graciously loaned me his Celestron Ultima 2000 (his self-described "beater/mud scope") for the whole week my family was vacationing. I seriously can't express my appreciaton for KJ's generosity and helpful advice enough. Thanks KJ.
So on to the observing report! The first night we arrived at our condo on the west end of Maui, I was super excited to see our back porch (lanai) had a great view to the south, even if it had to be over the well-lit and wonderfully refreshing pool. I quickly set up my Mak-Cass with my 32mm Plossl and aimed at the brightest thing I could see, Jupiter. WOW! Even in the tiny little view all 4 Galilean moons quickly popped into view and Jupiter presented a clear disk with a faint hint of banding. I switched over to my ES82 11mm and could definitely see some banding, though not terribly clear in the seeing conditions.
Later in the week (September 26th) my wife, SIL, and I got to head up to the summit of Haleakala. The drive up in daylight was so unique and beautiful. Views of the crater floor reminded me of being on Mars. Totally other-worldly. We found one of the last parking spots at the summit as everyone gathered for sunset. We enjoyed our Costco pizza we had hauled up with us (much to the jealousy of our new closest 200 friends) as we watched the sun descend into the clouds over the west end of the island.
Once the sun itself disappeared, we spotted Mercury hanging out a little ways above the clouds. Cool! Not much more than a bright star against the bright sunset sky through binoculars, but still pretty cool to get to see it.
Once darkness set in, the magic started. The only reason we were on this vacation was some flash deal airline tickets so it just so happened that we were there during the new moon. After all the car headlights left in a long train down the mountain, the stars absolutely filled the sky in every direction. The Milky Way was bright as a cloud, stretching completely from the south, arching overhead to the zenith, and dropping down in the north. It was spectacular to the naked eye.
I had the 8" SCT set up and aimed at Jupiter and Saturn. What a beautiful sight. Jupiter clearly presented several bands of orange and pale yellow. I was mostly using my ES82 11mm at 182x mag and sometimes my Agena DualED 8mm at 250x mag. The ES82 was much easier to use since the fork mount wasn't powered.
Turning to Saturn, the view was unbelievable. The Cassini Division was clear as day and I could even make out a little banding of different shades of Saturn's pale yellow color. The shadow of Saturn cast on the backside of the rings made a clear black gap in the disk, easy to see. One of the best parts for me was inviting about a dozen other people wandering around the summit taking in the view to look through the eyepiece. I had many "WOW!", "No Way!", "That looks like a textbook picture!", and general gasps. So cool to get to share with people what's just sitting up there in the sky for our enjoyment.
I also spent a fair bit of time observing some DSOs I knew I wouldn't get to see for a long time. Almost all of them were using the 32mm Plossl to give me a 3mm exit pupil. I'll change up to more of a list format here.
M7 - Ptolemy's Cluster Like a jewel box of stars. Beautiful and stark against the background. Very large and open.
M8 - Lagoon Nebula Definitely one of my new favorites. I could make out a very clear dust lane through the middle and loved seeing the star cluster laid over top.
M20 - Trifid Nebula Could see the faint sort of tripod, bird foot pattern that splits the sections. Two distinct areas of nebulosity.
M22 - Sagitarius Globular Cluster Spectacular globular. Pretty sure I could see this one naked eye with averted vision and definitely in binos. Incredible through the telescope. Very round and smooth globular. Lots of bright highlight stars that stand out.
M24 - Small Sagitarius Star Cloud There's a lot of stars there.
M17 - Omega or Swan Nebula This is my new favorite DSO. Just a beautiful sight in the sky. Could clearly see the Swan shape and the body faded off gradually. Stared at this for a long time. Very bright and crisp nebula.
So many open and globular cluster in the Messier Catalog checked off my list I had Stellarium open on my phone and just worked my way from SE to NW checking off many M objects I might not see for a long time. Some we're very enjoyable, others just kind of faint globs. But cool to say I've seen them.
C65 - Sculptor Galaxy Really neat galaxy. Clear elongated shape. Slight kind of speckling or dust.
Eventually it was getting late enough that we wanted to head back down the mountain. I think we returned to our condo around 1 or 2 in the morning.
There was another person on the summit doing some imaging with a SkyGuider Pro and RedCat (first light for him!), and he let me borrow his older simple star tracker and I was able to capture this shot of the Milky Way over Science City and the observatories sharing the night sky with us.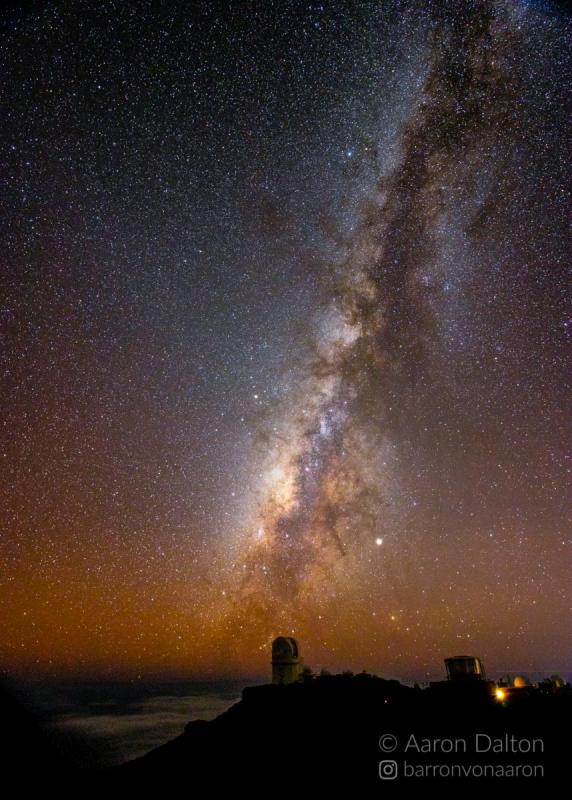 This was a truly unforgettable, once in a lifetime night. We had almost no wind, no moon, no clouds, only got down to around 45°F. Really just a perfect night. I consider myself pretty blessed to get that opportunity. Thanks again KJ for letting me borrow a very nice telescope. It made the trip for me. Thanks others who offered advice as well, or bothered to read through this whole report.
Clear skies!