A little over a month ago, one of my Cloudy Nights buds posted this thread:
https://www.cloudyni...ular/?p=9683619
...and then, knowing that the central pivoting-rod between the two OTAs on my Oberwerk 20x80 Deluxe IIIs is identical in configuration to the one on his Oberwerk 25x100s, he PM'd me, asking for my thoughts. Much of the following several paragraphs is a paraphrased version of the back-and-forth communication that followed.
- - - - - - - - - -
To start with... after sixty-five years of using binoculars to look at the sky (and at all sorts of flying / running / stationary wildlife as well), my ability to quickly aim them is extremely accurate... whether they're hand-held or on a tripod.
But with the 20x80s -- because the circular clamping-knob that adjusts the position of the tripod-mounting-shaft sticks up a little too far above the round central pivoting-rod -- I've continually found it difficult to easily aim them by line-of-sight, when they're mounted on a tripod. And for various reasons, I've just never taken to the idea of "red-dot" finders, so I've often contemplated rigging up some other sort of pointing mechanism, to help.
Relatedly, I had also found that I have the same problem if I'm shooting astro-pics with just my camera and a long-ish lens. So last year, I did actually buy a small zero-power red-dot sight (the one I got is designed for use on a gun), and an adapter that allows me to mount it on the camera's hot-shoe bracket. But in the end, I didn't like looking through it (depending on the position of my head, the red dot wavers all over the FOV)... so that finder sits in a box, unused and unwanted.
And like a lot of the contributors to my friend's thread, I'd also (half-heartedly) considered mounting my laser-pointer on the 20x80s... but I have a little bit of medium-altitude night-time air traffic in my area, so I typically only ever use it -- cautiously -- when I'm pointing out an asterism to a curious-minded acquaintance.
Another thing I'd thought of, is just to devise something akin to the purely-mechanical notch-type "iron" sights on a handgun or a rifle... but I've never been able to come up with the necessary parts that would allow me to easily adapt them to the big binoculars.
Oddly though, the one thing I hadn't ever seriously considered, was mounting some kind of actual astronomical finder-scope on them. Using an eight- or nine-power finder on a pair of twenty-power binoculars somehow didn't feel like an appropriate mix; it just seemed to me that for simple and rapid alignment purposes, I'd want a much wider FOV than what 8X or 9X would provide.
But once I'd been asked to actually look into how to go about doing exactly that... it became a rather interesting challenge.
One of the more obvious possible shortcomings that I initially envisioned, was one that I also subsequently read about in the "Magnifying Finder Scope for 25x100 Binoculars" thread, regarding the potential for one's breath to fog the binoculars' eyepieces while looking through the finder.
Temporarily putting that thought aside, I then recalled that somewhere in my house, there's a box which contains the original 6x30 finder-scope that came with my trusty ol' C8. But realizing that it would take me hours (if not days) to find the box -- and also, that the old-style 6x30 finder doesn't provide a "correct" image -- I quickly gave up on trying to locate it.
Nonetheless, thinking about that finder-scope made me start thinking about things like rifle-scopes...
...which resulted in a two-hour online search...
...which ended up in my ordering this:
https://www.walmart....-Black/43980235
My feeling was that the 40mm objective would definitely be large enough from the standpoint of light-gathering capability... but what I really liked about it, was that it could be set as low as 3x, resulting in an FOV that's three times as wide as the 20x80s' FOV.
At that point, of course, I was right back to the original stumbling-block: how to go about mounting it on the 20x80s?
A fair amount of trial-and-error experimentation eventually led to getting two of these:
https://oberwerk.com...k-finder-mount/
...and these:
https://www.amazon.c.../dp/B071989RNV/
...which in combination, are tall enough to allow the scope to easily clear the attachment-knob on the binoculars' central rod.
Not knowing in advance what the circular inside-diameter on the Oberwerk adapters was, I also ended up needing to get one of these:
https://www.mcmaster.com/6389K556
... to allow attachment of the "forward" set of scope-mounts to the 20x80s' central rod.
Here's how it turned out: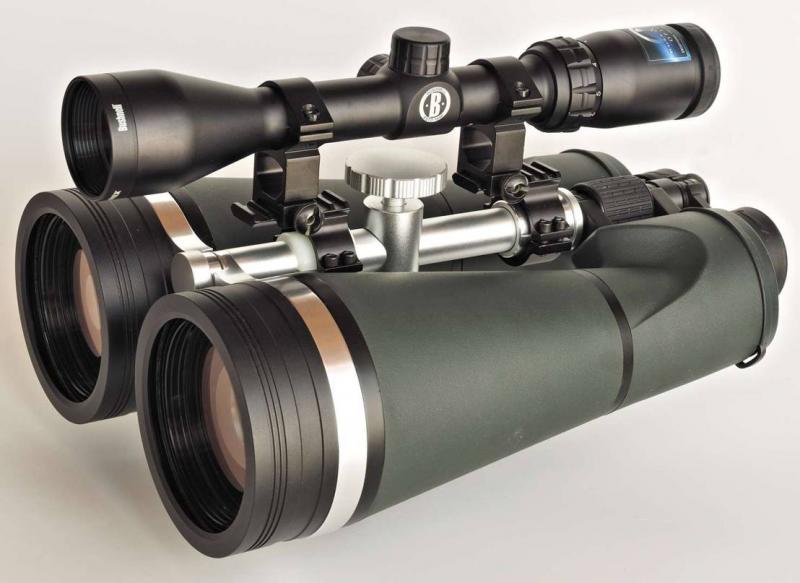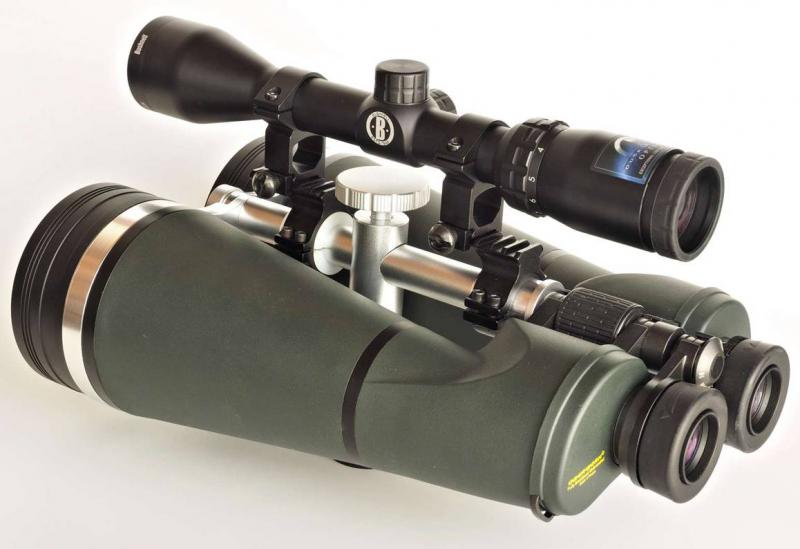 This arrangement is rock-solid and completely stable... and it works beautifully. In use, my eye doesn't need to be any closer to the scope's eyepiece than somewhere between four and six inches (four is optimal), so there's no danger of having my breath fogging the binoculars' eyepieces at all... and the scope's 40mm objective brings in a wonderfully bright view, making it easy to see either my actual target... or plenty of alignment stars, in the case of an "invisible" faint-fuzzy.
Altogether, an excellent solution for my problem... and I also happen to think that it looks really cool.

Even better, though -- and again, thanks to a large amount of enthusiastic encouragement from my C-N buddy -- I also just took delivery of an amazing Farpoint parallelogram binocular mount:
https://oberwerk.com...inocular-mount/
I have been seriously considering a parallelogram-type mount for my 20x80s for quite some time... the two primary candidates being the Farpoint, and the Orion "Monster". In looking closely at the engineering and construction of the two, one of the things that I did not like about the Orion Monster, was that its L-shaped bracket -- which is the piece that supports the entire weight of the binoculars -- is made from two die-cast aluminum rails which are only held together at their right-angled junction by two small bolts. To me... this is a major catastrophe waiting to happen.
On the Farpoint, that same L-bracket structure is a single, solid, 9mm-thick, CNC-machined aluminum piece... which is literally unbreakable.
I will admit, however, that I very much like the inclusion of a control-handle on the Orion Monster. Fortunately, on the Farpoint, the bolt which attaches the binocular mounting-base to the L-bracket is a tripod-standard 1/4-20 bolt... so it was a simple task to remove its black star-knob, and put one of these in its place:
https://www.amazon.c.../dp/B07332SM8W/
...which makes positioning the binoculars a breeze!
One of the main reasons I've put off getting one of these mounts, though, is that I do all of my visual and AP work from my "driveway observatory":
...which is ten feet square, but has to house a good bit of equipment... such that whenever I'm doing a multi-hour photo session, I always have either my C8 or my 20x80s set up alongside the AP rig, so that I can spend the time observing visually, while the camera is happily clicking away.
My concern with using a parallelogram binocular mount, then, was the potential for having its fairly-long counterweight-arm accidentally collide with the AP setup, while I'm scanning star-fields with the binoculars.

From the center of the upright to the outside tip of the L-bracket, the parallelogram portion of the Farpoint is 35-inches long. But thanks to the L-bracket's additional horizontal swivel at the binocular-end of the parallelogram, there is room enough inside the "observatory" for me to maneuver and position the 20x80s into whatever orientation is necessary, without having to swivel the parallelogram itself to any great extent... all while sitting very comfortably on a small camping chair
Still... some swiveling of the mount will inevitably be necessary, so the length of the counterweight arm becomes significant. But unlike the similar Orion Monster -- which has a long, fixed-position counterweight arm -- the counterweight arm on the Farpoint is retractable. My solution then, to achieve proper balance with the counterweight arm almost fully retracted, was to add a 10-lb barbell weight to the two supplied 5-lb ones.
The combined weight of the 20x80s and the rifle-scope is exactly eight pounds. Using just the two 5-lb weights to achieve balance, the tip of the Farpoint's counterweight arm extends 27-inches from the center of the upright. Adding the 10-lb weight, that tip now only protrudes outward from the central upright for fifteen inches... which is perfect. No danger of accidental collision with my other apparatus, whatsoever.
I must also say that the Farpoint's overall quality of construction is incredible. Every major part of it, except for the counterweight-arm, is made from thick-walled, beautifully and precisely CNC-machined aluminum. And along with its precision machining... nylon washers on every pivot-point translate into effortless and absolutely-stable positioning, without having to re-adjust the tensioning of the swivel-knobs at all, once they've initially been set.
A final addition to the Farpoint involved devising a quick-release mechanism for the 20x80s. For a first attempt, I simply attached the Oberwerk 5000 Head that I'd already been using. But even after leaving off the one-inch-high blue "spacer" that came with the Farpoint, the 5000 head ended up raising the binoculars' center of gravity above the L-bracket's pivot point... along with adding a lot of unneeded weight.
Given the necessity for a well-made, reliably-solid connection between the binoculars and the Farpoint, I chose this:
https://www.amazon.c...uct/B07F7P1G1R/
Simple to operate, super-strong, and infallibly secure.
So all-in-all, the Farpoint is a joy to look at -- especially in conjunction with the Oberwerk TR3 walnut tripod -- and a joy to use.
Here's the final setup... which has completely transformed my big-binocular observing experiences: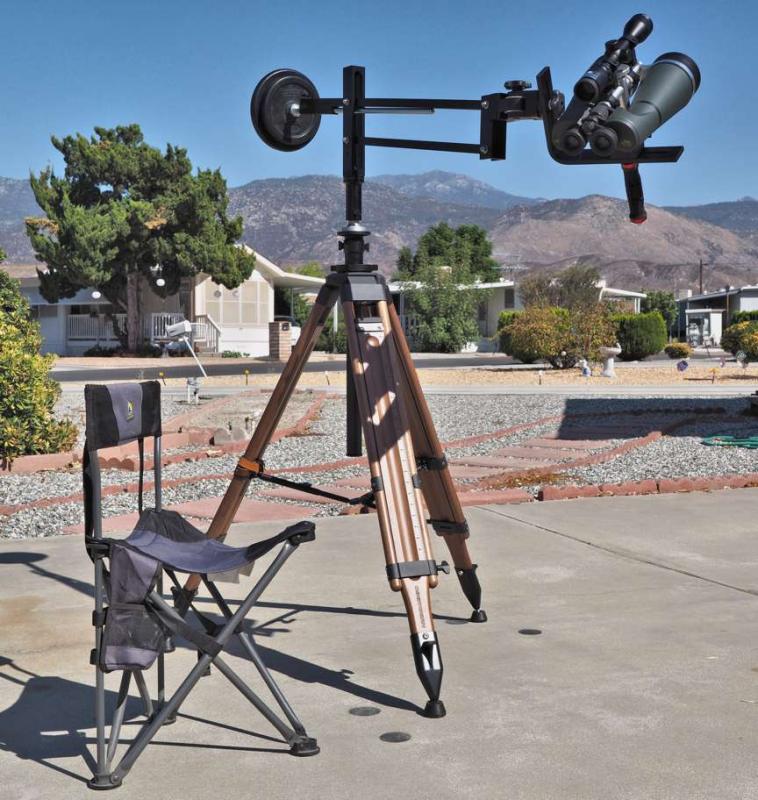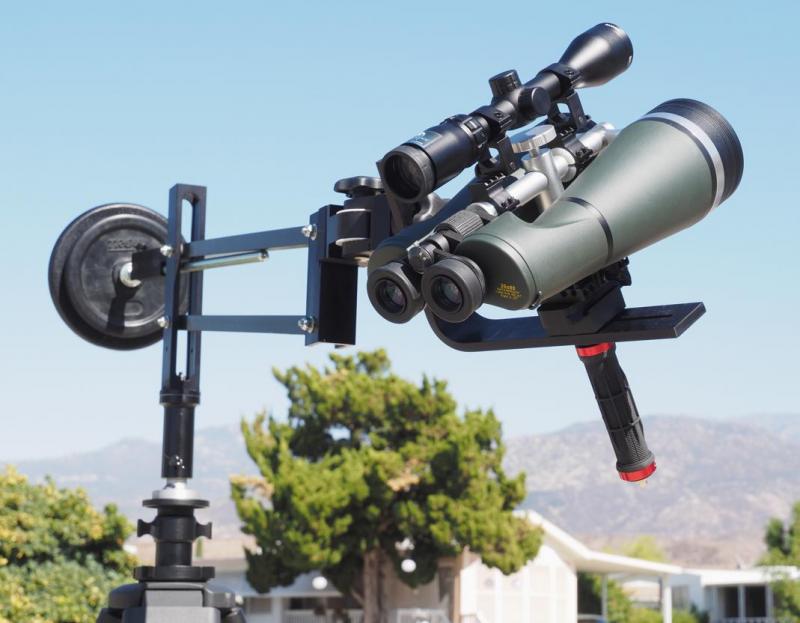 Edited by B 26354, 18 October 2019 - 06:47 PM.