Hi all,
I'm hoping to get some advice on repairing/rebuilding an old refractor telescope.
It been siting in storage for a number of years and recently during a house move it took a tumble down a number of stairs during which the objective lenses came out.
I didn't think much of it at the time but have now tried to reassemble and am not able to achieve focus.
It doesn't make much of a difference no matter what im trying to focus on e.g. trying to look at Jupiter or a street light 200meters down the road both appear as a large extremely blurry spot of light.
I'm not opposed to paying for this be fixed up but im also tempted to use it as an excuse to invest a bit of time into a project and get more into the hobby. I have a few pairs of astronomical binoculars which suit me at the moment but the scope has a bit of sentimental value (it belonged to my dad and I have fond memories of looking at the bands on Jupiter and Saturns rings) and would like to get it usable again.
The telescope in question, as far as I am able to tell, is a Tasco 9te from the 60s/70s – this is a guess based on a bit of googling and visual comparison looks exactly like this: https://www.cloudyni...rite-refractor/
There is no branding on it but some sticker residue where this would have been.
Most of the accessories are gone all that's left is:
• main tube
• two eye pieces (H 20mm and a 6mm)
• barlow
• Wooden tripod
I figured the issue was that I put the objective's back in the wrong order I've tried re-arranging them in every combination before finding this diagram and now have it in the number 1 position (or at least i think i do based on trying to feel the difference of curve on each side of each lens):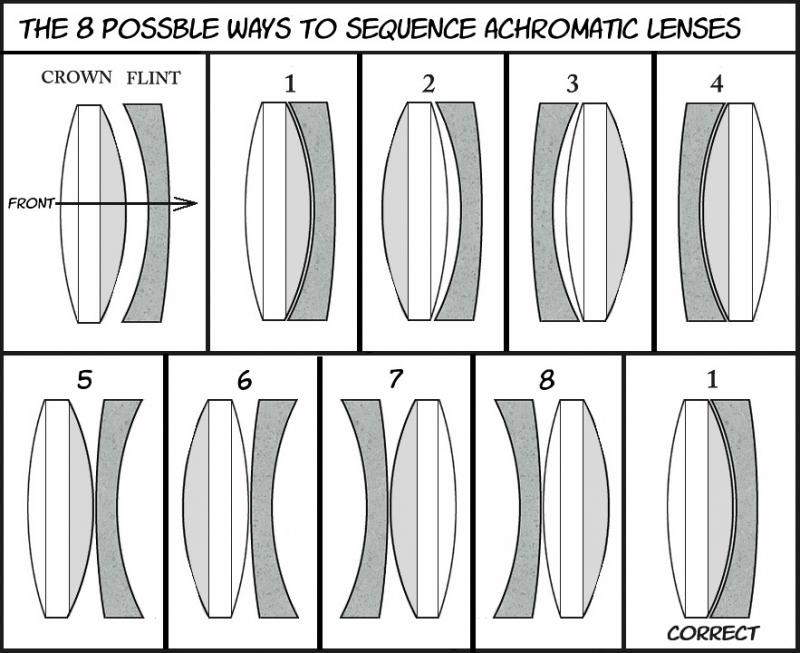 I had also started to play with the eye piece lenses before realising this was dumb as they didn't come during the fall and I was way in over my head i think (hope) I got these back in the correct order.
I guess my questions are
1. Is what im seeing (large blurry light spot) likely to be due to the lens order or might it be some other damage caused during the fall?
2. any tips for trouble shooting what the issue might be?
3. any advice on how to proceed beyond just paying someone who knows what they are doing?
Appreciate thoughts on this.
Thanks.