Hey all, I'm very new with binoviewing and I need help understanding what is going on with my recently acquired binoviewer setup. I have some educated guesses as to what is going on, but I'm not sure what the best solution will be to address it.
Equipment:
Zeiss Binoviewer, 24.5mm clear aperture all around, 11.5cm light path, 1.25" nosepiece
3.75" long Siebert 1.25X OCA in 1.25" format
16" f/4.5 dobsonian reflector, focal length 1826mm
Issue:
With the 1.25X OCA, I am able to reach focus with the binoviewer, but there seems to be excessive aperture loss and heavy coma induced. When defocusing a star that is centered, I get a round defocused star. When defocusing a star that is anywhere but centered, the defocused star is cut off.
It kind of looks like this at the eyepiece, where the cutoff will follow the star's position. If the star was on the left, it would look like a mirror image of my example.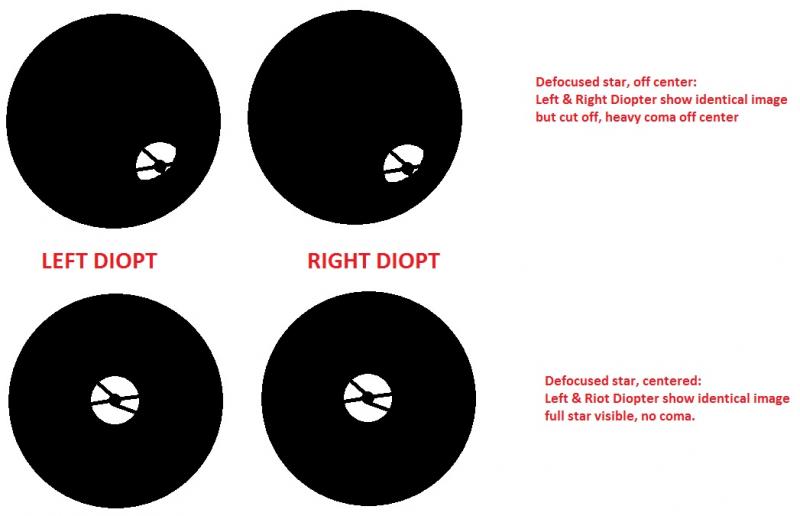 Considerations:
Telescope is well collimated, binoviewers are well collimated with identical left right image, all optical components/diopters are on axis and well centered.
With a 2" 2X Telecentric Focal Extender, I can also reach focus and there is no odd coma induced; defocused stars show as circles regardless of position. It is far too much magnification for my liking, on the other hand.
I am suspecting that the 3.75" long OCA is too small. While I like the low magnification, i feel like the 1.25" format is too small and the light cone coming off the secondary is too large and a lot of light is getting cut off. This is what I suspect is happening:
Harry Siebert's website is incredibly hard to parse/follow, so I'm unsure of what would be the best low magnification corrector for my application. With my 2X 2" telecentric, it would seem that it's far back enough in the focuser that the light cone size is small enough by the time it hits the telecentric's lens that it will go into the BV's 1.25" nosepiece/objective without any loss. It would seem like I would need a 2" corrector that sits far into the drawtube that is low magnification, but also reduces the light cone size small enough for the BV's aperture.
Any assistance, corrections, product recommendations, and education on this is greatly appreciated. This is my best guess as to what is happening.
Edited by Volvonium, 22 October 2019 - 12:27 PM.